The best Archaeology Tour in Chachapoyas & Kuelap 5 Days
---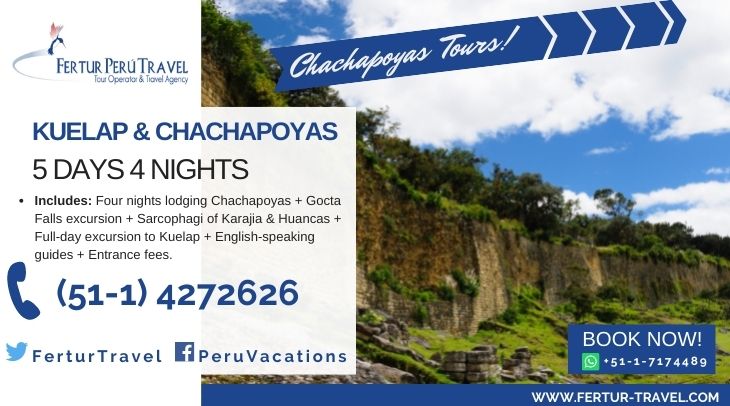 ---
This Northern Peru Amazon adventure takes you to indigenous ethnic communities that maintain their ancestral customs dating back to their resistance against conquest by the Inca Empire. You will trek to the Gocta Water Falls, explore the mysterious Sarcophagi of Karajia and take a stunning cable car ride to experience an in-depth guided tour of Kuelap, the massive mountainside fortress of the Chachapoya culture. Book now this Kuelap 5 days tour!
Includes:
Four nights lodging Chachapoyas
Gocta Falls excursion
Sarcophagi of Karajia & Huancas
Full-day excursion to Kuelap
English-speaking guides
Entrance fees
Prices available upon request
Kuelap 5 Days: Your complete travel itinerary
Day 1: Lima – Jaén – Chachapoyas
Pick up from Jaén Airport and overland transfer to Chachapoyas. The journey takes approximately 3½ hours. Check-in to your hotel.
Day 2: Chachapoyas – Gocta Falls
In the morning after breakfast we embark on the 1-hour ride to the village of Cocachimba, where for generations the people have made their living cultivating sugarcane and jungle fruits. From here, it a 2½- to 3-hour trek through the cloud forest down to base of the Gocta Falls. At 2,529 feet high (771 meters), Gocta was first revealed to the wider world in March 2006 by German engineer Stefan Ziemendorff, who proclaimed it the third highest waterfall on the planet. (In fact, it the 15th highest, but no less beautiful, especially during the rainy season from November to April. The trade-off of going during that period are the wet conditions, which make the hike more challenging.) Return to Chachapoyas. (B/L)
Day 3: Chachapoyas – Sarcophagi of Karajia – Huancas
Following breakfast we head in private vehicle through several picturesque villages to arrive about 2½ hours later at the town of Cruz Pata. From here it is 45 minute walk to reach the famous Sarcophagi of Karajia, built into the walls of a cliff. From the vantage point below, we can see more than 30 intact sarcophagi, joined in groups of 4 to 8, with red and white painted faces.
On the return trip, we stop in the town of Huancas. Built by the Inca, the town's residents were forced to migrate from Huanuco to pacify the warrior Chachapoya culture, which resisted Inca conquest. The main industry in Huancas is ceramics, and the town remains the primary supplier of pottery for the region. All the artisans in the town are women. After some time to shop, explore on your own and have some lunch, we will continue on to a scenic lookout with a great view of the Sonche Canyon. Return to the hotel in Chachapoyas. (B)
Day 4: Chachapoyas – Kuelap
We spend the day in the Fortress of Kuelap, known as the "Machu Picchu of Northern Peru." Box Lunch included. It is an hour's journey to Nuevo Tingo, where you will board the new aerial tramway system to reach the Chachapoya temple fortress. The 30-minute cable car ride offers stunning views of the valley and surrounding mountains. Kuelap contains more than 400 stone buildings within its walls. It's the largest limestone structure in the Americas. Built at an altitude of more than 9,840 feet above sea level (3000m.a.s.l.), orchids and bromeliads covers the walls and trees of the complex. Return to the hotel in Chachapoyas. (B/BOX LUNCH)
Day 5: Chachapoyas – Jaén Airport
We drive by private transport from Chachapoyas to Jaén for your trip back to Lima or onward to Cusco or other points. (B/BOX LUNCH)
(B) Breakfast, (L) Lunch, (D) Dinner
Tour Includes:
All entry fees
Transfers to airports and/or bus stations
Meals mentioned in the program
Private transport specified in the itinerary
Transfers between cities
Accommodation
Bilingual guide
Not included:
Tips
Alcoholic beverages
Internal Flights (We are an IATA-affiliated agency and can book your air tickets if you want)
< Prev
Chachapoyas 4 Days
---
Contact Us: Get a quote for Kuelap 5 Days Tour
To book your Kuelap 5 days tour now or consult with us, fill out the "Contact Us" form to the right and a Fertur Peru Travel coordinator will contact you within one working day with detailed information about your fully customizable trip. Fertur Peru Travel's pledge is to offer you top-quality, individualized attention that starts with the planning of your trip and continues through your journey to guarantee a great vacation.
Go Back to Chachapoyas Tours