Machu Picchu Private Tour: Full Day with Vistadome Train
---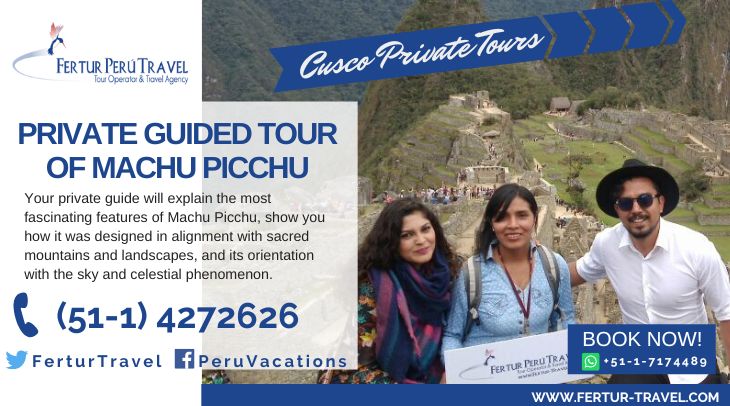 ---
Prices available upon request
Your guide will meet you at your hotel and drive with you to the Poroy station where you will board PeruRail's Vistadome train for a spectacular journey of just over three hours by narrow gauge railway along the northern banks of the Urubamba River to Machu Picchu. Are you interested in this itinerary? Send us a message and let us help you plan and book your Machu Picchu private tour based on this sample.
Enjoy a great Machu Picchu private tour!
The carriages are luxuriously designed, featuring panoramic windows and ample leather seats with tables allowing passengers to enjoy the magnificent scenery. The ride includes complimentary snacks, drinks and live entertainment throughout the journey. On arrival at Aguas Calientes, you will transfer with your guide to Machu Picchu.
It is a 20-minute ride up a switchback road to the ancient Inca citadel of Machu Picchu straddles the saddle of a high mountain with steep terraced slopes falling away to the fast flowing Urubamba River, which snakes in a horseshoe bend around the ruins far below in the valley floor.
Machu Picchu
Located in the middle of a semi-tropical jungle at an altitude of 8,200 feet, Machu Picchu consists of more than 200 buildings including the royal sector, with fine Inca masonry of perfectly cut and fitted stone, residential houses designed with rectilinear walls and gabled roofs, and baths, altars and temples constructed on terraced plazas and connected by stairways carved into the solid rock.
Towering over the ruins is the ceremonial mountain peak of Huayna Picchu, an anchor to the tropical jungle peaks that provide the stunning backdrop in the distance.
Your private guide will show you how Machu Picchu was not only designed in alignment with sacred mountains and landscapes, but was oriented with the sky and celestial phenomenon as well.
The magical train route to Machu Picchu and lunch alternatives
Your customizable tour offers several options for lunch. If you want to make it a short break to eat and then re-enter the ruins to explore some more, then we can arrange a box lunch, or the buffet at the Machu Picchu Sanctionary hotel. If you want a more relaxed dining experience before boarding the return train to Cusco, there are several excellent options in Aguas Calientes.
Afternoon, board train for return to either the Ollantay or Poroy stations, and then transfer to your hotel.
Included:
Transfer hotel/Ollantay or Poroy Train station/hotel
Vistadome Train tickets round trip
Bus tickets to Machu Picchu
Entrance fee to Machu Picchu
Private tour with English-speaking guide
Buffet Lunch at Sancatuary Lodge Restaurant (recommended)
A similar full-day Machu Picchu day tour also is available in group service from our Av El Sol office. Please call or email us beforehand to check availability and book.
We recommend this hotel: Hatuchay Tower Machu Picchu
---
Contact Us: Get a quote for this Machu Picchu Private tour
To book your Cusco Private Tours now or consult with us, fill out the "Contact Us" form to the right and a Fertur coordinator will contact you within one working day with detailed information about your fully customizable trip. Fertur Peru Travel's pledge is to offer you top-quality, individualized attention that starts with the planning of your trip and continues through your journey to guarantee a great vacation.