Faraona Grand Hotel: Book Online or by Phone Here!
---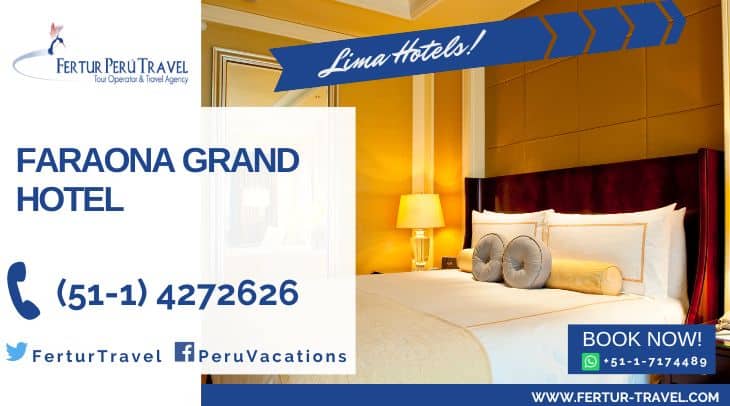 ---
Faraona Grand Hotel is located in the heart of Lima's Miraflores tourist district, close to shopping and entertainment, the Faraona Grand Hotel offers opulence on a small, charming scale. The elegantly appointed lobby opens to vaulted terraces extending the full six stories to a magnificent stained glass skylight.
⭐⭐⭐
Prices available upon request
Faraona Grand Hotel
With a hanging garden facade, a light-filled atrium, and a swimming pool on the terrace, the Faraona Grand Hotel offers a secluded getaway in the heart of Miraflores. With a range of eating and entertainment options available just moments away in Lima's main tourist district, the Papiros Restaurant serves a delicious mix of traditional Peruvian and international cuisine.
Hotel Features
Carpet
Fan
Cable TV
Free Internet access
International & national direct dial
Radio/alarm clock
Safety deposit box inside the room
Private bathroom with bath and shower
Facilities:
Papiros Restaurant, serving Peruvian dishes and international cuisine from 12 to 11 pm. Buffet breakfast until 10:00 am.
Alikhan Bar, serving traditional Peruvian appetizers and cocktails from 1 to 11 pm.
Business center, with printing service, 24-hour free Internet access, telephone & fax services, photocopy.
Terrace swimming pool, restaurant & bar, and meeting room.
---
Contact Us:
To book your vacation now or consult with us, fill out the "Contact Us" form to the right and a Fertur Peru Travel coordinator will contact you within one working day with detailed information about your fully customizable trip. Fertur Peru Travel's pledge is to offer you top-quality, individualized attention that starts with the planning of your trip and continues through your journey to guarantee a great vacation.
Go Back to Lima Hotels