The Perfect 3 Days in Chiclayo Itinerary: Book now with Fertur!
---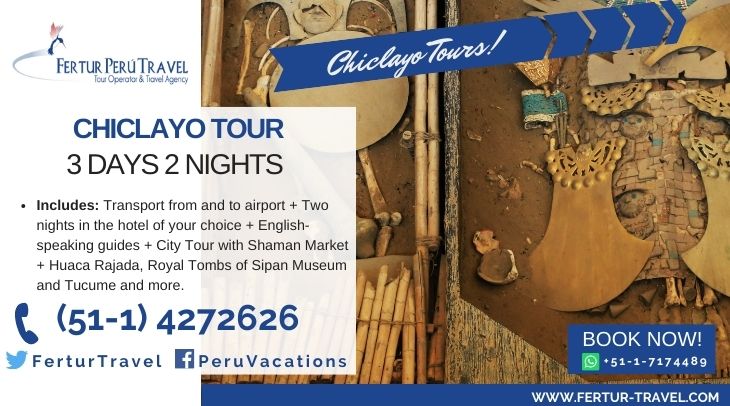 ---
A vacation of cultural and archaeological discovery that begins with a city tour of Chiclayo, including the twin-domed neoclassical Cathedral, the Paseo de las Musas park, and city's famous "shaman" market. This 3 days in Chiclayo, also featuring a full-day tour of Huaca Rajada, the Royal Tombs of Sipan Museum and Tucume.
Includes:
Transport from and to airport
Two nights in the hotel of your choice
English-speaking guides
City Tour with Shaman Market
Huaca Rajada, Royal Tombs of Sipan Museum and Tucume
Entrance fees
Prices available upon request
3 Days in Chiclayo Itinerary: How to Make the Most of Your Time
Day 1: Chiclayo
Reception and transfer to hotel. Afternoon guided city tour, visiting the Parque Principal; the twin-domed neoclassical Cathedral, which dates back to 1869; and a stroll through the Paseo de las Musas, a beautifully manicured park decorated with neoclassical statues of mythological figures.
The afternoon tour concludes with a shopping jaunt through the Mercado Modelo, renowned for its shaman section where vendors hawk exotic spices, dried herbs, elixirs and potions for shamans and faith healers in small stalls lined with shelves of bottled snake skins, claws and eviscerated frogs.
Day 2: Sipan
Continue to the town of Lambayeque to visit the Royal Tombs of Sipan Museum, where many of the Lord of Sipan riches are displayed. After lunch, visit the 26 pre-Columbian pyramids of Tucume.
It was here that Norwegian explorer and anthropologist Thor Heyerdahl discovered burial sites, textiles, and depictions of reed boats from 1988-94, proving that the ancient people of Tucume were experienced sea voyagers and traders. (B/L)
Day 3: Transfer Out
Breakfast. Transfer to the airport for return flight from Chiclayo. (B)
(B) Breakfast, (L) Lunch, (D) Dinner
---
Contact Us: Get a quote for 3 Days in Chiclayo Itinerary
To book your 3 Days in Chiclayo now or consult with us, fill out the "Contact Us" form to the right and a Fertur Peru Travel coordinator will contact you within one working day with detailed information about your fully customizable trip. Fertur Peru Travel's pledge is to offer you top-quality, individualized attention that starts with the planning of your trip and continues through your journey to guarantee a great vacation.
Go Back to Chiclayo Tours