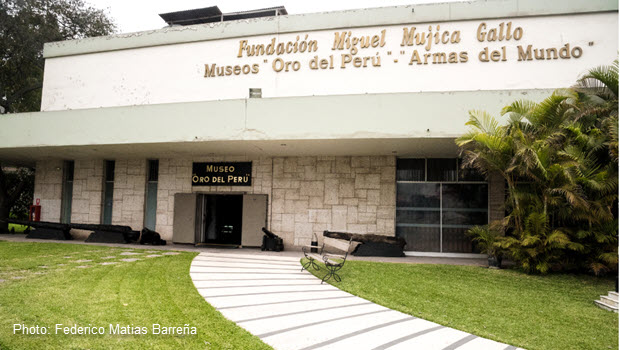 Gold Museum in Lima: Pre-Columbian Gold Artifacts and Arms
Peru's deep history of advanced civilizations is one of the most compelling aspects of the country; even before the arrival of the Incas (argued by some to have been as great as the Roman Empire), modern-day Peru was a tapestry of long-established peoples who were accomplished in pottery, stone-working, metallurgy, and many other dimensions of civilization. One of the best ways to take advantage of a visit to Peru to learn more about this rich history is to visit the Gold Museum in Lima (Museo Oro del Peru).
What is the Gold Museum in Lima?
Formally known as the Gold Museum of Peru and Arms of the World, the gold museum was created more than 50 years ago from the private collection of Miguel Mujica Gallo, a Peruvian diplomat and politician. The collection is enormous, boasting more than seven thousand artifacts, and is valued at around $10 million.
The Collection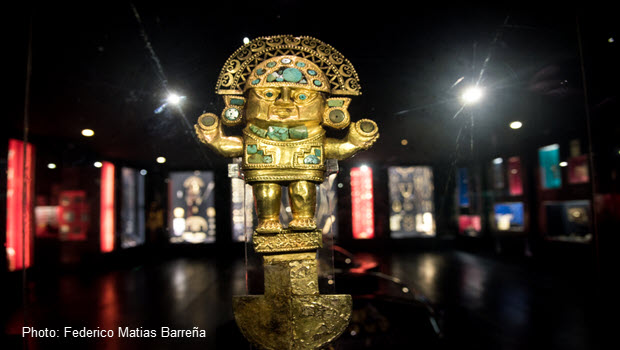 The collection has two main components: Inca gold artifacts (as well as some artifacts from before the Inca) and weapons from all over the world. It includes many pieces from the Inca Empire, who were famed for their beautiful gold artifacts, as well as pieces from pre-Inca cultures such as the Sican and the Moche peoples. The Sican and Moche civilizations (as well as the Chimu and Vicus, also featured in the museum) were not quite as sophisticated in their metallurgical techniques as the Inca, but nonetheless produced some truly awe-inspiring works of gold.
Miguel Mujica Gallo was also an avid collector of weapons from around the world, which are also on display in the museum. The collection of arms spans more than three thousand years of history, and includes the sword of King Ferdinand VII of Spain.
Where is the Gold Museum, and how do I visit?
If you have a Lima vacation coming up (or are looking to plan one), visiting the Gold Museum is easy.
It's located in Surco, the largest district in the city (in fact, it's right around the corner from the U.S. Embassy!). The opening hours are 10:30am, seven days a week, and the price of admission is 33 soles (around $10) for an adult and 16 soles (about $5) for children, seniors, and students.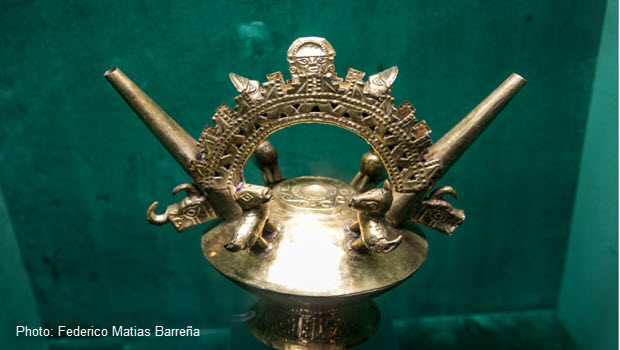 If you're interested in the Gold Museum, but also everything else that Lima has to offer, Fertur Peru has a three-day, two-night package for travelers with a couple of days to spend in Lima. It includes transfers to and from the airport and a full historic tour of Lima, spanning the pre-Columbian history, the colonial Spanish history, and the modern history of Peru. It also includes a visit to the Gold Museum.
You can find more information on our three-day Lima package page, or fill out the form below and one of our tour coordinators can put together a customized itinerary for you.