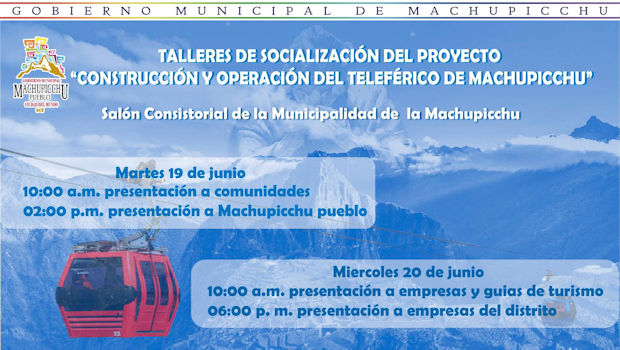 Culture Ministry Warns Cable Car To Machu Picchu Is Not Viable
Peru's Ministry of Culture is trying to put the kibosh on a local push to build a cable car to Machu Picchu.
The Municipality of MachuPicchu Pueblo, or Aguas Calientes, held workshops earlier this week touting "the characteristics of the project" and the tourism and economic development it would generate "in favor of the inhabitants of the district."
Today, the Ministry of Culture issued a widely reported statement, saying a cable car project was already definitively ruled out by UNESCO and is not contemplated in the approved 2015-2019 Master Plan for the Inca sanctuary.
The Ministry of Culture statement went on to say that it has always "been in solidarity with the social demands" of the inhabitants of the district, and as such, "we will seek alternative solutions for the conservation of the site" in accordance with the agreements between the Peruvian State and UNESCO.
So, here is what's going on. 
The days of buses shuttling visitors up and down the switchback Hiram Bingham "highway" are numbered. After a series of landslides, studies commissioned by Peru's National Service of Protected Natural Areas (Sernanp) and the bus concessionaire Consettur, itself, concluded the road, built in 1948, is near the point of permanent collapse.
Under the Master Plan, international bidding for feasibility studies to determine alternative forms of transport from the valley floor up to Machu Picchu are underway.
In 1999, construction of a cable car was approved and set to begin, but was abruptly cancelled after UNESCO nixed the project, objecting to the disturbing visual impact aerial cable cars would create. UNESCO threatened to add Machu Picchu to the endangered sites list if Peru went ahead with the project.
At the time, Consettur Machupicchu S.A.C. — comprised of nine local transport companies — had recently won the monopolistic concession to shuttle tourists to Machu Picchu. Not surprisingly, the company was dead set against a cable car system cutting into its business.
But times have changed. With the Hiram Bingham highway ready for decommission, the local transport companies want to make sure they're not left out of the picture.
Consettur has been under fire for years for the questionable circumstances under which it claimed a 30-year concession, granted in August 1995 after then-President Alberto Fujimori fast-tracked the privatization of tourism concessions and removed oversight and controls to help re-ignite Peru's economy.
So what are the alternatives?
The Ministry of Culture, UNESCO and the multisectoral stakeholders in Cusco are looking at an elevator or monorail, or a combination of both, that could be built beyond the horseshoe bend of the Vilcanota River, out of sight from the citadel above. Such a system would track up the mountainside, camouflaged by the dense vegetation.