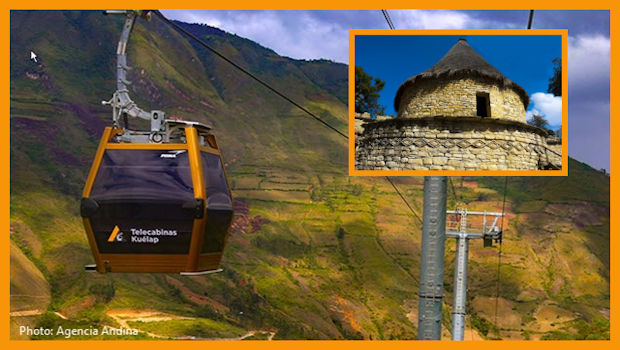 Peru's Kuelap No. 3 on Wall Street Journal's Top 10 Must Visits in 2018
Where to Travel in 2018? The Wall Street Journal ranks Kuelap No. 3 in it's Top 10 List
of hot destinations. "Don't miss out!"
America's premier business daily noted the inauguration earlier this year of cable car service to the Chachapoya Temple Fortress. Getting there had always required at least an hour and half of travel over rough terrain and bumpy roads — a journey that visitors almost universally deemed well worth the effort. With the cable cars, that's been transformed into a spectacularly panoramic ride that takes only 20 minutes.
Kuelap is often called the Machu Picchu of the North. The massive yellow stone fortress is not as iconic as the famed Lost City of the Inca, but it's on UNESCO's "Tentative List" for inclusion on the World Heritage List.
The Fortress wall measures more than 65 feet in height at several points, runs nearly 2,000 feet in length and has a maximum width of more than 360 feet.
Inside the walled enclosure are more than 420 stone structures. The complex is divided into two terraces. Eighty 80 circular and three rectangular structures grace its northwestern High Sector or Upper Town. The Low Sector contains 335 circular and two rectangular structures.
Think of Kuelap's ruins as the Machu Picchu of the north. Ten thousand feet up in the Andes, not far from the Amazon, the 6th-century site was built by the Chachapoyas, known as the warriors of the clouds. Once an arduous journey, it can now be reached in 20 minutes, thanks to a new 2½-mile-long cable-car ride that zips you through the staggering landscape.