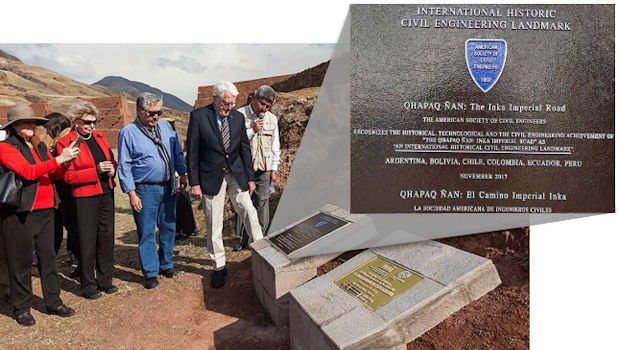 Inca Trail Declared Worldwide Historic Landmark of Civil Engineering
Qhapaq Ñan, the ancient imperial road system of Inca trails, was recognized this week as a worldwide Historic Landmark of Civil Engineering by the American Society of Civil Engineers.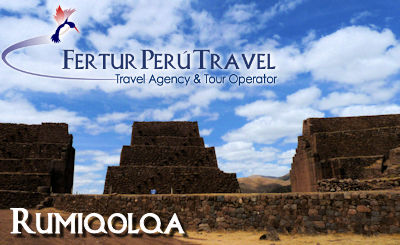 Two plaques were unveiled in Cusco's Southern Valley, at Rumiqolqa, a megalithic, pre-Inca aqueduct adjacent to the Huari citadel of Pikillacta. Officiating were the Cusco heads of the Ministry of Culture and the brilliant water engineer Kenneth R. Wright and his photographer, travel writer wife, Ruth Wright.
Since 1994, the Wrights have conducted extensive, groundbreaking research on the construction and utilization of ancient water works at iconic Inca sites, including Tipon, Moray and Machu Picchu.
On behalf of  the American Society of Civil Engineers, Kenneth Wright reportedly said the Qhapaq Ñan, or Inca Trail, is one of the most remarkable examples of engineering because of the rugged Andean geography it covered, integrating vast territories and cultures. "This infrastructure is still in full use by indigenous people," he said.
The Qhapaq Ñan road network formed the backbone of the Inca Empire's political and economic power, encompassing Peru and large geographic swaths of Argentina, Bolivia, Chile, Colombia and Ecuador. The entire system spanned nearly 14,300 miles (23,000 kilometers) in length and connected various production, administrative and ceremonial centers.
The Qhapaq Ñan Andean Road System was inscribed in 2014 by UNESCO onto its World Heritage List.
PLAQUE:

INTERNATIONAL HISTORIC CIVIL ENGINEERING LANDMARK

QHAPAQ ÑAN: THE INKA IMPERIAL ROAD

THE AMERICAN SOCIETY OF CIVIL ENGINEERS

RECOGNIZES THE HISTORICAL, TECHNOLOGICAL AND THE CIVIL ENGINEERING ACHIEVEMENT OF THE "QHAPAQ ÑAN: INKA IMPERIAL ROAD" AS "AN INTERNATIONAL HISTORICAL CIVIL ENGINEERING LANDMARK".

ARGENTINA, BOLIVIA, CHILE, COLOMBIA, ECUADOR, PERU

NOVEMBER 2017

QHAPAQ ÑAN: EL CAMINO IMPERIAL INKA
LA SOCIEDAD AMERICANA DE INGENIEROS CIVILES