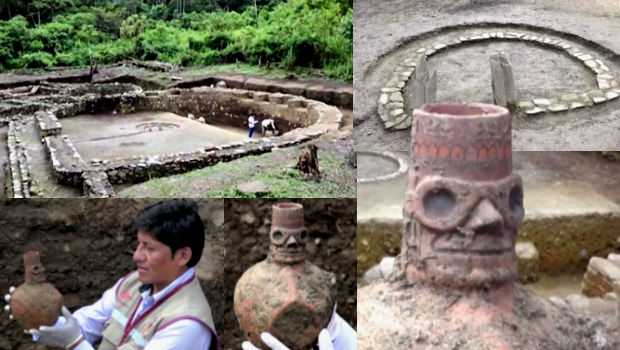 D-shaped Wari Temple Discovered in Cusco's Vilcabamba Jungle
The Ministry of Culture announced the discovery of an enormous pre-Inca temple in the shape of the letter "D" at archaeological ruins in Espiritu Pampa in Cusco's jungle-shrouded Vilcabamba region, northwest of Machu Picchu.
Lead archaeologist Javier Fonseca said the architectural style is consistent with the Wari, whose culture expanded out from Ayacucho in the central highlands to conquer and flourish over a wide swath of Peru starting around 450 until 1100 CE, about 300 years before the rise of the Inca Empire.
In the center of the giant retaining walls, the archaeologists found a smaller structure, also formed in the shape of a "D" which could have served as part of an astronomical observatory or to perform magical and religious rituals.
Two Wari ceremic vessels were found, one featuring a spout in the form of a human face with pronounced features, enormous eyes and an ornate crown.
The researchers also excavated a bevy of Inca artifacts, including Tupu brooches, silver pins and ceramic bottles.