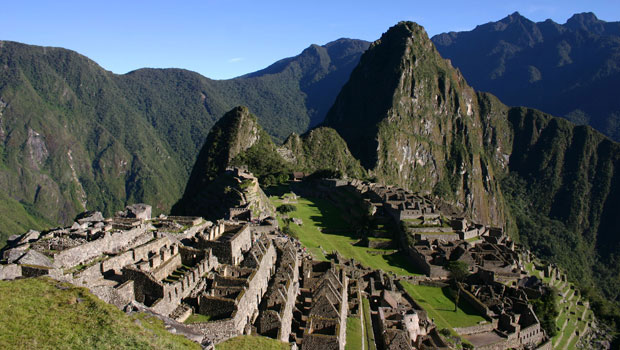 Machu Picchu before and after…
For an interesting perspective into how much restoration has taken place at Machu Picchu, independent American researcher and explorer Paolo Greer suggests watching a B-movie classic, Secret of the Incas.
The 1954 Paramount Pictures movie, starring Charlton Heston, was filmed on location in Cusco and offers a brief, but stunning, panorama of Machu Picchu.
That shot, when compared to the Inca Citadel today, reveals that many of the now-pristine outlying buildings were in fact collapsed piles of stone.
An argument can be made that the representative features of the restored architectural units remain true to the larger site and convey its  significance.
But not everyone agrees. To quote author Peter Frost, from his book, Exploring Cusco:
"It is said that when the anthropologists arrive, the gods depart. In my opinion, something similar happens with reconstructors of archaeological sites. Imagination is crushed; the mystery, the allure and the enchantment depart. (Many archaeologists would add: and with them goes a lot of irreplaceable information; for these are sites that can no longer be studied in their particulars.)"