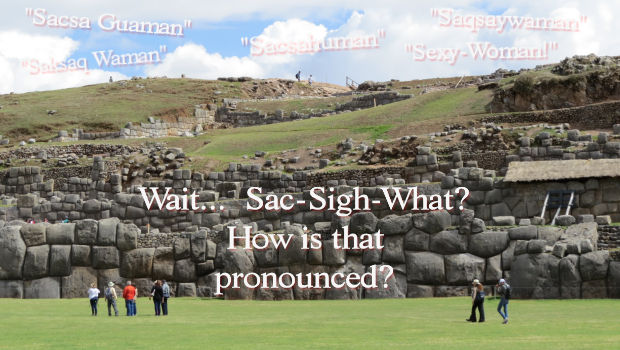 How to pronounce the name of that awesome ruins above Cusco
On the hillside above Cuzco there is a must-see destination to tour, the temple fortress of Sacsayhuamán… or is it Saqsaywaman?
The spelling, pronunciation and meaning of the name of this awe-inspiring titanic feat of Inca megalithic architecture has evolved over the centuries.
The name, as it appears at the gates of the site itself is spelled "Saqsaywaman," but the most popular and commonly accepted spelling in academia and on the Internet has evolved over decades to "Sacsayhuaman."
---
You Might Also Like: Inti Raymi Festival in Cusco, Peru.
---
Many a guide will instruct English-speakers on tour in Cusco to start with the words Sexy Woman (cringe), and work from there:
Sexy-Woman…
Sax-See-Woman…
Sac-Sigh-Wha-Man…
Anthropologist John Howland Rowe, one of the 20th century's foremost Inca historians, examined the issue in a 1987 paper titled "How did the Incas say 'SACSAHUAMAN' in the 16th Century?"
Several early chroniclers referred to the site, albeit with little consistency as to the spelling of the ancient shrine. The earliest was Juan de Betanzos, whose history of the Incas was written between 1551 and 1557.
Betanzos was the official Quechua interpreter for the Conquistadors, and his wife was an Inca princess For many, that makes him one of the most reliable of the Spanish chroniclers. He referred to the site as "Xacxaguaman."
The Inca Garcilaso de la Vega wrote a very similar account in the "Royal Commentaries of the Incas" — published in 1609, 40 years after he had left Peru as a young man to live in Spain: "They built the fortress on a high hill that is to the north of the city, called Sacsahuaman."
"Both these writers made it clear that Sacsahuaman was the name of the hill on which the fortress was built, not the fortress itself," Rowe wrote.
Felipe Guaman Poma de Ayala referred three times to the site as "sacsa guaman" in his account of the Inca Empire, published in 1615.
"The first word in our name was, therefore, saqsa in Classic Inca, and it was accented on the next to last syllable," Rowe concluded. "That gives us saqsa waman as the sixteenth century pronunciation of the name of the hill with the fortress of Cuzco on it."
Interestingly, Rowe takes to task the more modern, and now generally accepted, version of the name.
"Since at least 1866, the criollos of Cuzco have shared a belief that the correct form of the name they give to the fortress is Saqsaywaman," Rowe wrote. "The 'y' is the product of a false etymology that has become part of criollo folklore."
So, in Rowe's estimation, the name of the site did not originally mean "Eat your fill, hawk!" or some variant thereof.
No matter how you pronounce it, or interpret the Quechua etymology, Sacsayhuaman remains a must-see experience for anyone on tour in Cusco.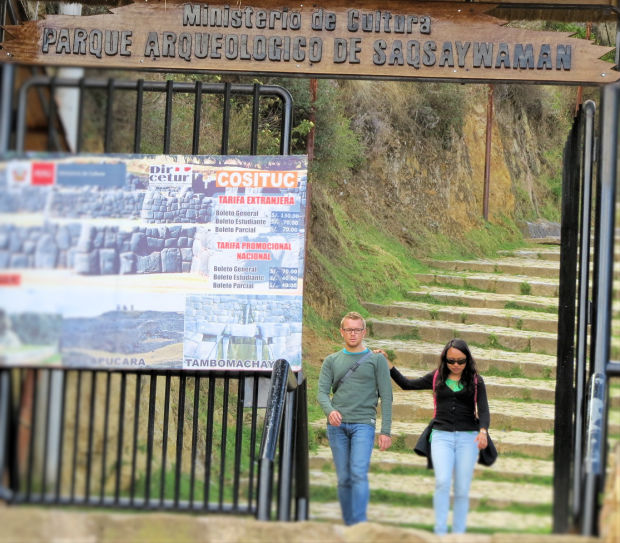 HOW DID THE INCAS SAY "SACSAHUAMAN" IN THE SIXTEENTH CENTURY? by John Howland Rowe, Ñawpa Pacha: Journal of Andean Archaeology, No. 25/27 (1987-1989), pp. 151-153
  If you like this post, please remember to share on Facebook, Twitter or Pinterest