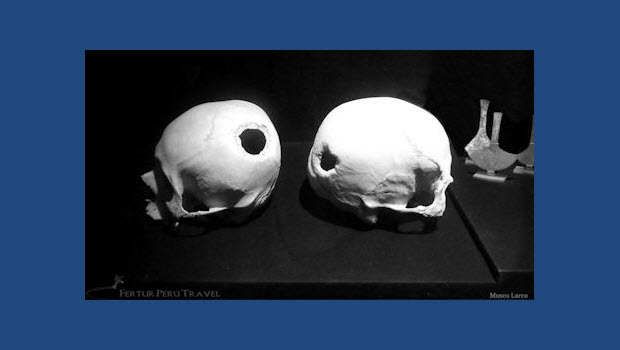 Tour the Larco Museum to see evidence of ancient brain surgery
When you tour the Larco Museum in Lima you will learn that ritual battle with heavy clubs was a mainstay of ancient Peruvian cultures.
No surprise, then, that for centuries, right through the Inca era, blunt force head trauma was a common ailment.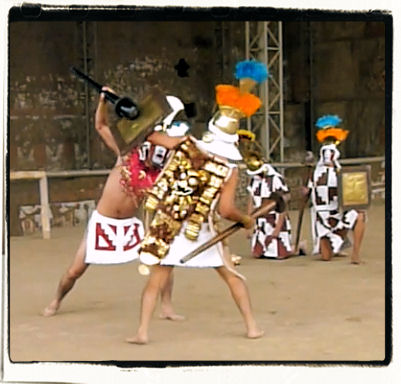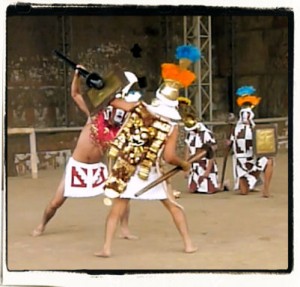 To deal with the problem, ancient societies practiced and perfected skull trepanation — a surgical procedure employed to eliminate hematomas or remove pieces of bone from skulls which were probably fractured during ritual combat or fighting between warriors.
Scientists have noted that a disproportionate number of these trepanned skulls show damage in the frontal or parietal region. Significantly more trepan holes are found on the left side of the head, consistent with blows delivered by right-handed adversaries during combat.
Just how advanced were the skills of these ancient surgeons?
There are hundreds of Peruvian trepanned skulls in Peru's museums. Two excellent osteological specimens are on display at the Larco Museum. The skull on the right shows the results of a successful operation, were the surrounding bone clearly healed around the hole. The skull on the left, not so much. The surrounding bone around the hole is jagged with fissures, indicating that the patient probably died within hours.
A little-known story that I always tell friends and clients when I take them to the Larco is about how a pair of Peruvian surgeons delved deep into ancient medical practices to perform the ancient surgical procedure.
In 1953, in a sterile hospital ward in Lima, two of Peru's most prominent neurosurgeons, Dr. Francisco Graña Reyes, a founder of the Peruvian Academy of Surgery, and his close colleague, Dr. Esteban Rocca Costa, put years of research to the test.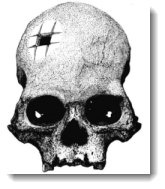 On the operating table lay a 31-year-old patient. The man, a humble cabinet maker, had suffered a blow to the head, causing a debilitating blood clot, which pressed against his brain, robbing him of his power of speech.
Graña and Rocca had studied hundreds of pre-hispanic trepanned skulls from the Paracas, Huari and Inca societies, extrapolating ancient surgical techniques and practicing on cadavers in Lima's morgue.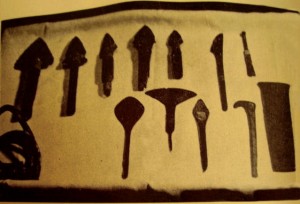 Now they confidently went to work on their first living subject, who was put under with modern anesthesia and pumped with antibiotics to forestall infection. Their surgical instruments, however, were anything but modern. In fact, the tools weren't even hospital property, but rather relics on loan from Peru's National Museum of Archaeology.
First Graña and Rocca tightly wrapped the patient's head with an ancient three-layer bandage tourniquet that provided a nearly bloodless field of operation.
Then with a saw of volcanic obsidian glass, a bronze chisel and a hammer fashioned from a silver-copper-iron alloy, they cut a hole in the left side of the patient's skull. After cleaning out the blood clot, they sewed up the incision with flexible bronze needles, which were bendable to more easily apply the stitches.
The surgery was completed in just 14 minutes.
The successful operation was internationally heralded in newspapers and magazines:
Peruvian M.Ds Prove Incas Able Surgeons
Tools of Incas Are Reported Used In a Successful Brain Operation; INCAS' TOOLS USED IN BRAIN OPERATION
Ancient Inca Technique Restores Man's Speech
The following year, Graña and Rocca published their book, "Cranial Trepanations in Peru During the Pre-Hispanic Era."
Here's The Associated Press' story about the operation:
October 5, 1953

Inca Instruments, Methods Restore Speech, Say Medics

Lima, Peru, Oct. 4. (AP) — Two Peruvian surgeons, using 2000-year-old instruments of the Incas and following ancient techniques, have reported a successful brain operation that restored a man's power of speech.

The surgeons are Dr. Francisco Graña Reyes and Dr. Esteban Rocca.

Their patient was not identified, but they said he had recovered completely and left the hospital where the operation was performed less than two weeks ago. He was reported to have shown no bad post-operation developments.

Ancient Tourniquet

Graña and Rocca are writing a book, "Pre-Columbian Surgery in Peru." Graña presided at a meeting of the International College of Surgeons in Rome in 1950. Rocca is a young brain surgeon who presided at the Peruvian Neurosurgery congress here earlier this year.

The instruments which they used included chisels and scalpels made of a silver-copper-iron alloy and an ancient tourniquet. These were obtained from an anthropological museum here. The instruments were sharpened and with the tourniquet were carefully sterilized before the operation.

The patient was suffering from a brain tumor which resulted from an injury of the forehead, the surgeons reported.

Describing the operation, Graña said last night:

"In these conditions, we operated on an individual who had a brain tumor and was unable to speak. We used a tourniquet and Inca instruments with very good results.

"We arrived at the dura matter (membrane inclosing the brain) and proceeded to eliminate the tumor.

"The patient recovered in a few days and left the hospital entirely cured."

The operation lasted only 14 minutes and was described as being virtually bloodless. This achievement was attributed to use of the tourniquet.

Skulls Studied

The Incas were Indians who controlled Peru when the Spaniards arrived in the 16th century. Scientists have long known from ancient Peruvian skulls that the Incas were skillful brain surgeons.

Graña and Rocca studied many of these skulls and all available documents on Inca surgery.

Two other Peruvian surgeons using similar instruments operated on a woman at a Cuzco hospital in 1944. The operation was completed, but the woman died later as a result of post-operational complications.
---
Further Reading:
E. George Squier and the Discovery of Cranial Trepanation: A Landmark in the History of Surgery and Ancient Medicine
By Stanley Finger & Hiran R. Fernando
Journal of the History of Medicine and Allied Sciences, Volume
56, Number 4, October 2001