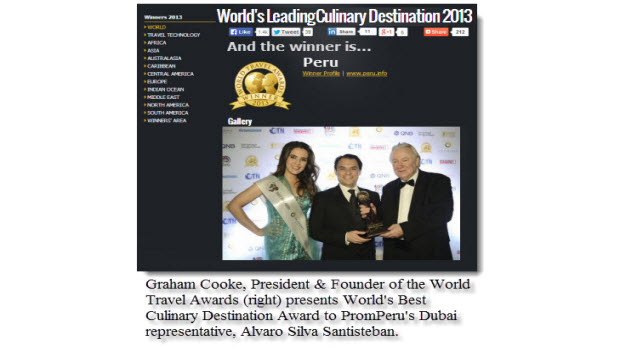 Peru wins World's Best Culinary Destination prize at World Travel Awards
For the second consecutive year, Peru was designated the World's Best Culinary Destination at the prestigious 2013 World Travel Awards, held this year in the city of Doha, Qatar.
The prize, given on Saturday, put Peru ahead of a long list of impress nominees such as Australia, China, France, India, Italy, Japan, Malaysia, Mexico, Spain, Thailand and the United States.
But truth be told, many of those countries' cooking traditions have had a lot to do with the development of Peruvian food.
Since the Spanish Conquest of the 16th century, the Peruvian kitchen has produced one of the world's original fusion cuisines, formed by a host of outside influences — from Chinese and African, Japanese and Spaniard, North American and European. Conquerors, natives, slaves and immigrants alike contributed to the delectable melting pot.
Peru was also chosen as the Best Culinary Destination in South America.
Interested in a culinary tour of Peru? Book a tour with Fertur Peru Travel and discover for yourself why our country is a foodie paradise.