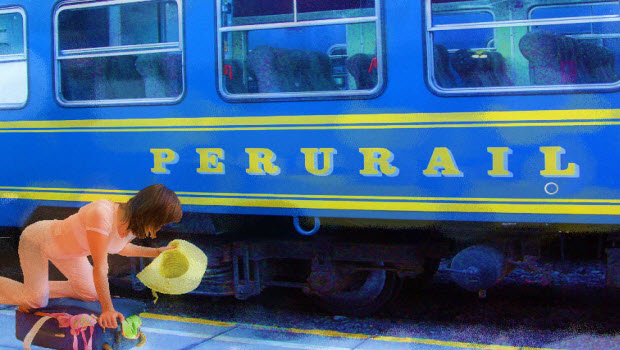 PeruRail gets tough on carry-on baggage limits for its Machu Picchu & Puno train service
If you thought the ever-shrinking limits on the weight and size of carry-on luggage was an exclusively airline-thing, think again.
PeruRail, the main train service to Machu Picchu, announced yesterday that starting August 6, 2012, it's going to get tough on passengers with over-sized rough sacks.*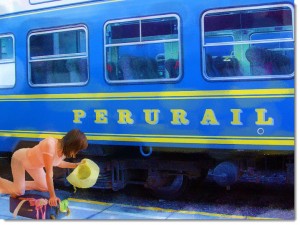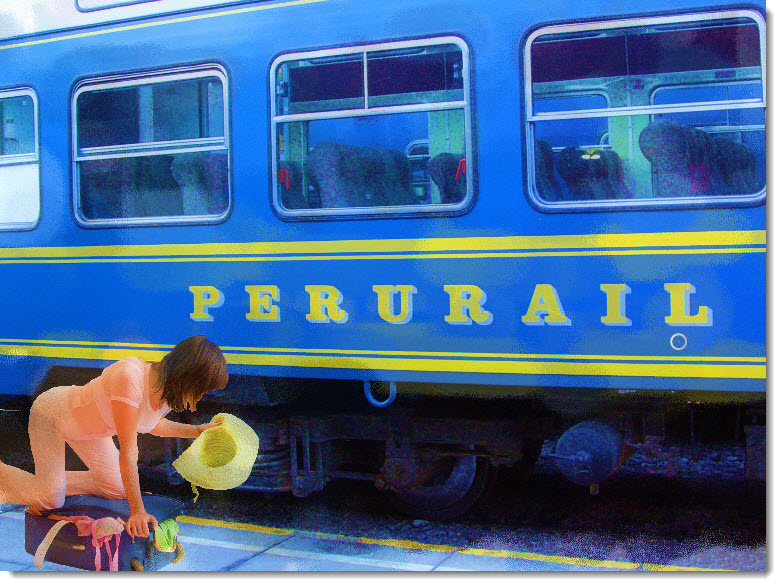 Each passenger will be allowed to take aboard one bag or backpack, not to exceed eleven pounds (5 kilograms). The bag cannot be larger than 62 inches (157 cm) in length, height or width, and must be stored in/on the compartments provided by PeruRail. Carry-on baggage must not be placed on aisle, exit doors, emergency windows, or on the seats.
PeruRail will allow passengers to check on luggage weighing a maximum of 48.5 pounds (22 kilograms) onto separate trains running between Ollantaytambo and Aguas Calientes once a day each way (The OLLANTA – MAPI Vistadome train departing at 08:53, and the return MAPI – OLLANTA Expedition train departing at 16:22). Any bag weighing more than the limit will incur an additional charge ($1.80 per kilogram.)
Passengers personally check on their own luggage, for which they are given a claim ticket (you can also arrange for an agent to check your bags on, but you must pick them up personally in Aguas Calientes.)
PeruRail also DOES NOT allow third parties to reclaim luggage for passengers returning from Machu Picchu. The passenger must present the claim ticket personally and show identification — which means you can't hire someone to pick up your luggage for you.
Not too convenient if you're returning to Ollantaytambo on a different train, or worse, taking the direct train to Poroy Station.
For folks traveling on the train to do the Inca Trail, PeruRail will offer an "Exceptional Flexibility Policy for Luggage on Board," but the trekker must show his or her "UGM" trail permit.
That will only be accepted for Machu Picchu bound trains, however. On the return trip back to Cusco, any oversized backpacks or bags must be transported on the luggage car offered by PeruRail, which, again, goes only as far as Ollantaytambo.
The new, stricter limits will also apply to PeruRail's Andean Explorer service between Puno and Cusco.
*POST UPDATED May 18, 2013, with more detailed information about PeruRail's luggage policy and its impact on travel logistics.
We got the news PeruRail about these changes yesterday afternoon, in an Email "Newsflash" that appears in full below. Fertur Peru Travel is going over the new regulations to ensure a smooth transition for all of our clients taking a vacation to Cusco.
| | |
| --- | --- |
| Asunto: | PERURAIL: Sobre Políticas de Equipaje a Bordo 2012 |
| Fecha: | Thu, 26 Jul 2012 15:00:52 -0500 |
| | |

NEWSFLASH

ZERO TORELANCE regarding Hand Luggage Policies on Board

Dear tour operators and travel agents:
Greetings from PERURAIL.

Please note that in order to keep safety protocols of our company, we kindly ask you for your support by instructing your operational teams and clients about hand luggage policies on board of our different train services from August 6th, 2012, when PERURAIL will apply ZERO TOLERANCE.

Important:

Hand baggage must include those items that due to its significance; a traveler shall take along on board.
All hand luggage must be store in/on the compartments provided by PERURAIL for this purpose, that is why it is not allowed to exceed the regulations bellow:

Hand Baggage Allowance

Each passenger may take

Baggage that exceed the measures will not be allowed

BLOCKING EXITS IS PROHIBITED BY LAW

The hand baggage must not be placed on aisle, exit doors, emergency windows, or on the seats.
The hand baggage will be transported on board the train, under the passengers´ custody and liability.

Route to Machu Picchu:

Passengers doing the Inca Trail can apply to our Exceptional Flexibility Policy for Luggage on Board, when showing their UGM permission, ONLY ON THE WAY TO HACIA MACHU PICCHU. On the return, the hand luggage must be transported on the luggage car offered by PERURAIL.
Passengers with at least one overnight in Machu Picchu can transport their over weight luggage on a luggage car available on the following schedules by showing its valid ticket:

| | | |
| --- | --- | --- |
| Route | Departure | Arrival |
| Ollantaytambo – Machu Picchu | 08:53hs | 10:52hs |
| Machu Picchu – Ollantaytambo | 16:22hs | 18:01hs |

Until 23kg per passenger FREE OF CHARGE

Please also remain that PERURAIL has a Storage Service available at Ollantaytambo and Machu Picchu stations. Working hours:

Ollantaytambo

: Monday to Sunday 07:00hs to 19:00hs

Machu Picchu

: Monday to Sunday 10:30hs to 16:30hs

Storage service is FREE OF CHARGE, by showing valid ticket.

TO AVOID DELAYS ON THE DEPARTURES, THE LUGGAGE CHECK-IN WILL BE MADE AT THE STATION MAIN ENTRANCES.

Route to Puno:

Please note that on route to Puno, a luggage car is available at the train, to transport over weight luggage FREE OF CHARGE.

YOUR SUPPORT WILL BE APPRECIATED TO GUARANTEE SAFETY AND PUNCTUAL OPERATIONS.

ALL THE ABOVE REGULATIONS ARE RELATED TO THE SAFETY PROTOCOLS AND THE INSURANCE DEMANDS
If you like this post, please remember to share on Facebook, Twitter or Google+