The Perfect 4 Days in Lima Itinerary. Booking now!
---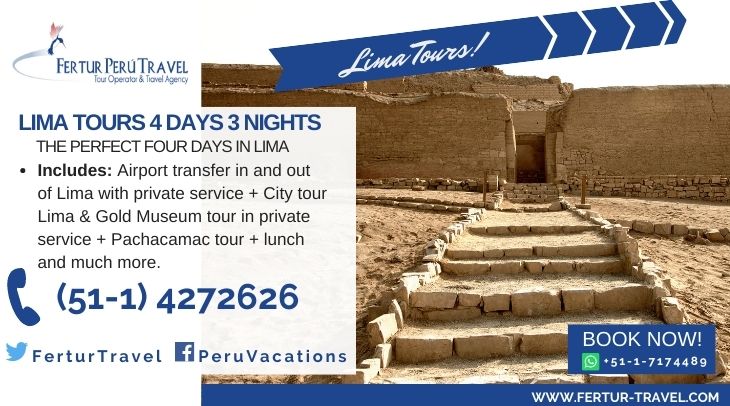 ---
4 days in Lima package with a guided tour of Lima's Spanish colonial center, including the eerily fascinating catacombs of the San Francisco Convent. Also, Miraflores and Lima's famous Gold Museum. Then head south of the city to the sprawling ruins of Pachacamac, the temple deity adored for a thousand years by a succession of ancient cultures until the Spanish Conquest of the Inca Empire.
Includes:
Transport from and to airport
Three nights in the hotel of your choice (Look at this hotel)
Lima city tour
Gold Museum
Pachacamac ruins
Entrance fees
English-speaking guides
Prices available upon request
How to spend 4 days in Lima?
Day 1: Reception and Transfer
Reception. You are met at the airport by our driver and taken to your selected Lima hotel.
Day 2: Lima City Tour: Ancient, Colonial and Modern
Breakfast. You are picked up at your hotel by your private guide and driver to begin your tour in Lima's historic city center.
Visit the Main Square and the Cathedral, where Conquistador Francisco Pizarro is entombed. Tour the Convent and Church of San Francisco, which hold the oldest collection of colonial art in the Americas, with an exquisitely carved chorus, a library of ancient manuscripts, and the Sacristy with paintings by Zurbarán and Rivera.
The grand courtyard of the main cloister is decorated floor-to-ceiling in blue and white Sevillian tiles, depicting scenes from the bible that dates back to the 16th Century. Moroccan-style arches lead us to the Catacombs, a subterranean crypt from the colonial period, where the bones of 25 thousand colonial-era Lima residents are entombed.
Then tours of the Huaca Pucllana, a pre-Inca adobe pyramid in the heart of the seaside district of Miraflores; Parque del Amor (Park of Love), and other attrations in the Miraflores district.
Lunch. Excursion to the Gold Museum, with its magnificent collection of gold artifacts from Peru's pre-Columbian civilizations, textiles, and a vast collection of Conquest-era and post-Colonial weaponry. (B/L)
Day 3: Sacred Citadel of Pachacamac
Breakfast. Pickup at your hotel by your private guide and driver for a morning Excursion to Pachacamac Ruins: the temple of the deity, Pachacamac, the creator of the universe and a divinity adored by old Andean civilizations, where thousands of pilgrims converged to pay tribute and consult the Pachacamac oracle, whom they believed could see the past, the future and the fate of all people.
The site comprises pyramidal temples and enclosures built by successive pre-Columbian civilizations and finally the Inca. (B)
Day 4: Transfer Out
Breakfast. Transfer to the airport. (B)
(B) Breakfast, (L) Lunch, (D) Dinner
Includes:
Airport transfer in and out of Lima with private service
City tour Lima & Gold Museum tour in private service + lunch
Pachacamac tour + lunch
03 nights hotel accomodations in Lima + breakfasts
Certified English-speaking guide
Not Included:
International flight
Airprot tax
Non-itinerary meals or drinks
Tips or services not described in the itinerary
---
Contact Us: Get a quote for this 4 days in Lima package
To book your vacation now or consult with us, fill out the "Contact Us" form to the right and a Fertur Peru Travel coordinator will contact you within one working day with detailed information about your fully customizable trip. Fertur Peru Travel's pledge is to offer you top-quality, individualized attention that starts with the planning of your trip and continues through your journey to guarantee a great vacation.
Go Back to Lima Tours
Best hotels in Lima: Hotel Libertador Lima | Faraona Grand Hotel