Cusco Luxury Vacation Monasterio Hotel & Machu Picchu
---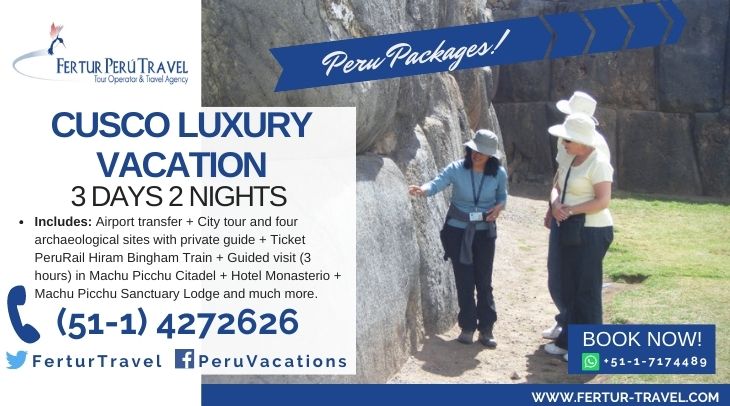 ---
A top Cusco luxury vacation with Orient Express and Fertur Peru Travel. Spend your nights relaxing in two of the finest, most exclusive hotels that Cusco has to offer, at a great price.
Discover and learn about the historic city of Cusco and its archaeological ruins. Travel in comfort aboard the PeruRail Hiram Bingham train from Poroy to Aguas Calientes and then up to the mountaintop to explore the mystic grounds of Machu Picchu.
Prices available upon request
Hotel Monasterio ⭐⭐⭐⭐⭐
Machu Picchu Sanctuary Lodge ⭐⭐⭐⭐
A Stylish Cusco Holiday Experience
Detailed Itinerary:
DAY 1 City Tour and Archaeological Ruins
Reception and transfer from the airport to the Hotel Monasterio.
Because of the high altitude, 11,152 feet above sea level (3400m), it is highly advisable that you take a short rest to acclimatize.
In the afternoon, you will have a city tour highlighting Cusco's historic past, the fusion of Inca and Spanish architecture and featuring walk-thru tours of the Cathedral, the ruins of Koricancha (or Temple of the Sun), which was looted and razed by the Spanish, who then constructed the Santo Domingo Church on its massive foundation, typical streets, and the four ruins that surround the city: the Sacsayhuaman Fortress, Kenko, Puca Pucara, and Tambomachay.
Accomodation at Monasterio Hotel.
DAY 2 Machu Picchu Excursion
Breakfast at the hotel, then pick up and transfer to Poroy Station, where you will be welcomed by local dancers and treated to an assortment of soft drinks (soda, coffee, tea or fresh juice) and pastries. Then you will take the Hiram Bingham Train to Machu Picchu.
Experience this mysterious historic site, with its ingeniously engineered underground water canalization and its sacred citadel of temples, mausoleums, squares and royal houses with an expert certified guide.
Widely believed to have been built in the mid-15th century by Inca Pachacutec, Machu Picchu was the secret city of the Inca, never discovered by the Spanish.
Its rediscovery for the world was made in 1911 by American explorer Hiram Bingham, and it remains South America´s most spectacular archaeological site.
Lunch and accommodation at Machu Picchu Sanctuary Lodge. (B/L)
DAY 3 Explore the ruins in the morning – return to Cusco
After enjoying a buffet breakfast, return to the ruins to explore on your own, in relative quiet before other visitors arrive on the train from Cusco.
Afternoon, board train for return to Poroy, where you will transfer to the waiting bus back to Cusco and the Monasterio Hotel. (B)
DAY 4 Transfer Out
Breakfast. Transfer from the hotel to the airport. (B)
(B) Breakfast, (L) Lunch, (D) Dinner
Included:
Airport Transfers in and out of Cusco
City tour and four archaeological sites with private guide
Ticket Peru Rail Hiram BinghamTrain
Soft drinks (coffee, tea, fresh juice, pastries) at Poroy Station
Private bus transfer to Poroy to board Peru Rail train to Machu Picchu on-board escort
Guided visit (3 hours) in Machu Picchu Citadel – 01 guide per each 14 persons
Cheese & wine on the return train to Poroy
Two nights in the Hotel Monasterio, with buffet breakfast
One night in the Machu Picchu Sanctuary Lodge, with buffet breakfast, lunch and dinner
Re-entry ticket to Machu Picchu on Day 3
Excursions and tours as described in itinerary
Certified English-speaking guides
Entrance fees to museums and archaeological sites
Not Included:
Airfare
Non-itinerary meals
Tips or services not described at the itinerary Buffet breakfast and 10% service charge included for non-Peruvian tourists.
Peruvian citizens and legal residents of Peru subject to IGV.
Rates subject to change and some date restrictions may apply.
---
Highly recommended Hotel in Cusco: Inkaterra Machu Picchu Pueblo Hotel
Contact Us: Get a quote for this Cusco luxury vacation
To book your vacation now or consult with us, fill out the "Contact Us" form to the right and a Fertur Peru Travel coordinator will contact you within one working day with detailed information about your fully customizable trip. Fertur's pledge is to offer you top-quality, individualized attention that starts with the planning of your trip and continues through your journey to guarantee a great vacation.
Go Back to Peru Tour Packages