Inkaterra Machu Picchu Pueblo Hotel: Book Now!
---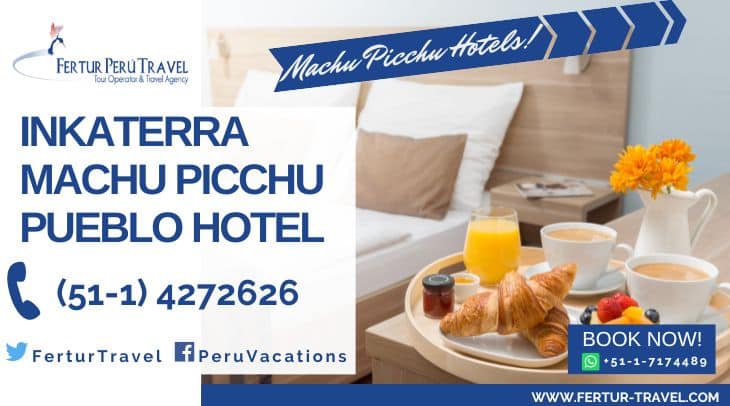 ---
The ideal location for the ecologically-minded traveler, the Inkaterra Machu Picchu Pueblo Hotel is a luxury 85-room boutique hotel surrounded by verdant grounds, home to hundreds of species of orchids. The hotel offers bird watching excursions to see the numerous hummingbirds along walking paths that lead from guest bungalows directly into the cloud forest. Organic vegetables are grown on the hotel property and served in many restaurants in town. Breathtaking vistas of the mountains and the rapids of the Vilcanota River are visible from every location on the property. The Machu Picchu citadel is easily reachable by hiking or by a 20-minute bus ride. Guest bungalows, which surround the central hotel building, each have private verandahs and sumptuous furnishings handmade by local artisans. Meals may be taken in the Mikhuna Wasi Restaurant, housed in a modern glass structure offering 360 degree views of the landscape.
⭐⭐⭐⭐
Prices available upon request
Inkaterra Machu Picchu Pueblo Hotel: Check prices here!
Just moments from the train station, the Inkaterra Machu Picchu retains the atmosphere of a secluded jungle village, with dozens of luxury bungalows built into the terraced hillsides lining the Vilcanota River. From its own tea plantation to the largest private orchid garden in the world, the hotel combines a visit to Machu Picchu with an unparalleled opportunity to experience Peru's stunning biodiversity.
Hotel Features:
Superior room with one queen or two double beds 100% cotton sheets and hypoallergenic pillows Dining area for two. Room heater. Colonial style wardrobe. Andean slippers crafted from recycled materials, plus a complete set of environmentally friendly toiletries (322.80 ft2).
Junior suite,a spacious setting, offering a separate area for reading and relaxing, with iPod speakers next to the fireplace, plus the possibility of a balcony or terrace. Amenities include Andean slippers crafted from recycled materials, two robes, a colonial style wardrobe, speakers (430.40 ft2).
Suite Inkaterra, with a personal garden and covered terrace, pool, extra-large canopied lounger and outdoor shower. Nearly 1,900 ft2 of beautifully appointed space includes an expansive sleeping area with king bed, 100% cotton sheets and additional seating; a second room features a gracious area for working or relaxing, as well as dining for four in front of an open fireplace. The luxurious marble bathroom has two basins and a secluded garden view tub, a double closet, a separate shower and commode. The acclimatized room includes Wi-Fi Internet (at no additional cost), plasma screen satellite TV with DVD player, iPod with home stereo, minibar, and cordless telephones (1893.76 ft2).
Facilities at Inkaterra Machu Picchu Pueblo Hotel:
Cafe Inkaterra Restaurant offering Andean cuisine and architecture with a contemporary approach, creating innovative fusion-style fare, and casual sophistication under a traditional Amazonian thatched-palm roof, overlooking the Vilcanota River.
Dining room and Bar.
Inkaterra Gallery gift shop.
Unu Spa & Yoga.
High speed Internet.
---
Contact Us:
To book your vacation now or consult with us, fill out the "Contact Us" form to the right and a Fertur Peru Travel coordinator will contact you within one working day with detailed information about your fully customizable trip. Fertur Peru Travel's pledge is to offer you top-quality, individualized attention that starts with the planning of your trip and continues through your journey to guarantee a great vacation.
Go Back to Machu Picchu Hotels