Hotel Monasterio
---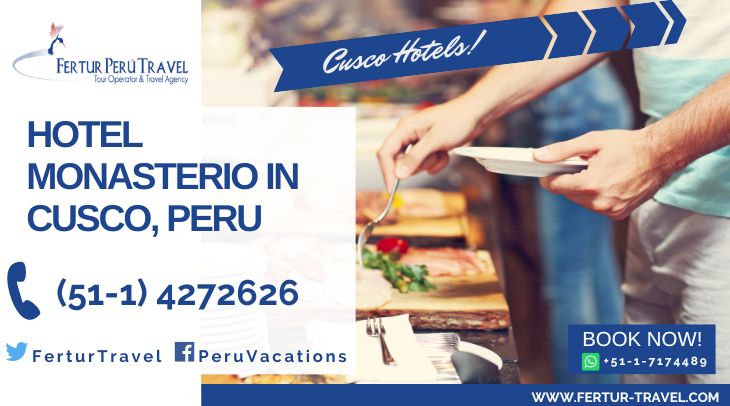 ---
The Monasterio Hotel in Cusco, is housed in the old San Antonio Ábad seminary, a classic of 17th century Andean-baroque architecture. Guests have access to the famous "Escuela Cusqueña" art collection and the hotel chapel, gleaming with gold leaf. Four colonial courtyards offer pleasant gardens with fountains, surrounded by stone colonnades. Each room has a unique layout and is furnished in a mix of colonial and modern styles, while most have views of the city. Supplemental oxygen can be pumped directly to many of the guest rooms to avert or alleviate altitude sickness. The two hotel restaurants serve international and Peruvian food and have frequent live music and traditional dances; an Andean harpist plays regularly in the Lobby Bar.
⭐⭐⭐⭐⭐
Prices available upon request
Book a luxury room at the Hotel Monasterio in Cusco
With four garden courtyards, modern and colonial furnishings, and stone colonnades, the Hotel Monasterio has transformed a 17th Century seminary into a luxury retreat in the heart of Cusco. Guests can enjoy the hotel's famous "Cusco school" art collection, live Andean music and traditional dancing at two gourmet restaurants, or relax from a day's high altitude exploring in oxygen enriched guest rooms.
Hotel Features
In-room satellite TV
Two telephones (with an extension in the bathroom)
Heat/AC
Minibar
Personal in-room electronic safe
Hairdryer
Superb furniture
24-hour room service
Oxygen-enrichment in most guest rooms
Facilities
The Illariy Restaurant, adjacent to the Main Square/Courtyard, decorated with paintings from the ancient Cuzco seminary.
El Tupay Restaurant, serving daily buffet breakfasts and "Cusqueñan Nights" on Saturdays, showcasing traditional music and dance from the surrounding towns.
The Lobby Bar wall.
---
Contact Us: Accommodation at the Monasterio hotel in Cusco
To book your vacation now or consult with us, fill out the "Contact Us" form to the right and a Fertur Peru Travel coordinator will contact you within one working day with detailed information about your fully customizable trip. Fertur Peru Travel's pledge is to offer you top-quality, individualized attention that starts with the planning of your trip and continues through your journey to guarantee a great vacation.
Go Back to Cusco Hotels