The Luxurious Belmond Hiram Bingham Train to Machu Picchu
There are several ways to travel to Machu Picchu. Some prefer to hike the Inca Trail, and a few take the roundabout journey from Santa Teresa. But hands down the most luxurious mode of travel to the sacred citadel is the Hiram Bingham Train to Machu Picchu.
Churning through verdant farmland and Andean cloud forest at a leisurely pace, this train takes about three hours, providing panoramic views of the enchanting Sacred Valley of the Incas and leaving no detail devoid of tasteful luxury.
Who Was Hiram Bingham?
The train's namesake is an American historian, archaeologist, and explorer, as well as a U.S. senator, who lived from 1875 to 1956. Bingham is credited with discovering Machu Picchu in 1911 and broadcasting its magnificence to the world.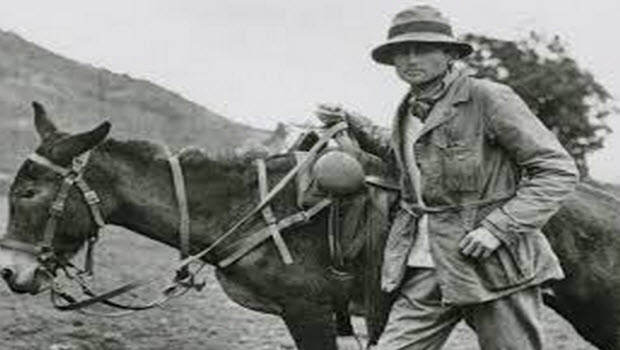 In reality, to say that Bingham "discovered" Machu Picchu is more than a stretch, it's a historical falsehood, as documented by several authors and scholars in recent years.
Most recently, historian Mark Rice does an excellent correcting the story in his new book, Making Machu Picchu: The Politics of Tourism in Twentieth-Century Peru, detailing Bingham's rocky relationship with his Peruvian hosts.
In fact, a bevy of local officials and landowners pointed Bingham right to the ruins that lay on the now world-famous saddle ridge between the twin peaks of Huayna Picchu and Machu Picchu.
When Bingham arrived to the area he'd been directed to, accompanied by a military sargent name Carrasco, they met with a local, Melchor Arteaga, who confirmed the site's existence. Arteaga later took them up to the summit on July 24, 1911.
Upon arriving, far from encountering an abandoned "Lost City," they were greeted by a family who lived and farmed next to the ruins. It was one of that family's three young sons, Pablito Richarte, who offered the first known "tour" of Machu Picchu to none other than its "discoverer" Hiram Bingham.
Still, undeniably, it was Bingham who returned on expeditions to photograph, clear and excavate the site in 1912 and again between 1914 and 1915. He truly did reveal it to the world when his article on his exploits was published by National Geographic in April 1913 under the title "In the Wonderland of Peru" — breaking the magazine's circulation records.
We can thank Bingham (and the Incas, of course) for enabling Machu Picchu to become what it now is today: a pristine, mystical city that captures the imagination of everyone fortunate enough to lay their eyes upon it.
We can also thank Bingham for another cultural contribution — maybe. There are some people who believe that he was the inspiration for another adventure-minded archaeologist who, although fictional, has greatly eclipsed Bingham in fame: Indiana Jones.
About the Hiram Bingham Train to Machu Picchu
The first important thing to know about the Hiram Bingham Train is that it is an extremely luxurious train. From the moment you step on board, you will have top-notch service, decadent food and drinks, and extravagant sights.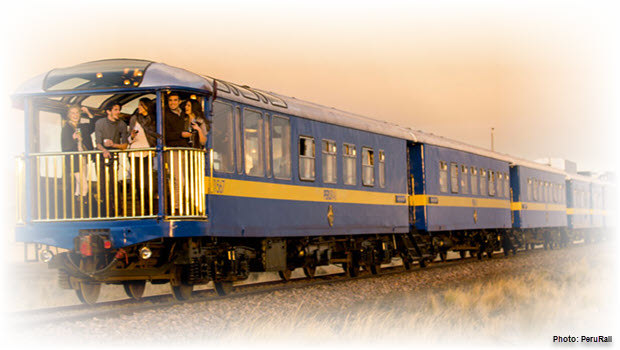 The train itself is a beautiful thing to behold. It's not just any old train — it is impeccably decorated, boasting a lustrous wood interior and handsome furniture. Aesthetically, it is a classic luxury train, in the mold of Murder on the Orient Express or From Russia With Love (but decidedly free of the intrigue and danger of those particular trains).
When you board, you will be lavished with a drink: sparkling wine, pisco sour, or whatever suits your fancy. While on the train to Machu Picchu, you will be treated to an exquisite three-course meal featuring quintessential Peruvian fare.
And surely you didn't think the train would be lacking in entertainment, did you? As the train from Cusco to Machu Picchu whistles along, you can hear live music, see authentic traditional Peruvian dances, and enjoy good company — not to mention the observation car offers you unobstructed views of the impressive landscapes.
Booking the Luxury Train to Machu Picchu
It's not an opportunity that comes along every day: to board a train in Cusco, once the seat of the Incan Empire and still a bastion of ancient and colonial history; to travel through the unforgettable Urubamba Valley aboard a luxurious train; and to explore Machu Picchu, one of the seven Wonders of the Modern World.
Fertur offers a package that extends this luxury and splendor to four days and three nights. You'll stay at the 5-star Monasterio Hotel, an indulgent resort built into a historic Spanish monastery in the heart of Cusco. The package also includes a tour of Cusco's historic sites and an extra morning at Machu Picchu to ensure you can fully take in the beauty of the city that was lost for more than 350 years.
And, of course, that's all in addition to the Hiram Bingham Train to Machu Picchu, and all the incredible luxury it entails. If you are interested in our Machu Picchu Luxury Tours, we encourage you to click the link to learn more, and please feel free to reach out to a Fertur agent with the Contact Us Now form below.
[ninja_form id=3]