The Story of the Luxurious Belmond Hiram Bingham Train to Machu Picchu
There are several ways to travel to Machu Picchu. Some prefer to hike the Inca Trail, and a few take the roundabout journey from Santa Teresa. But hands down the most luxurious mode of travel to the sacred citadel is the Hiram Bingham Train to Machu Picchu.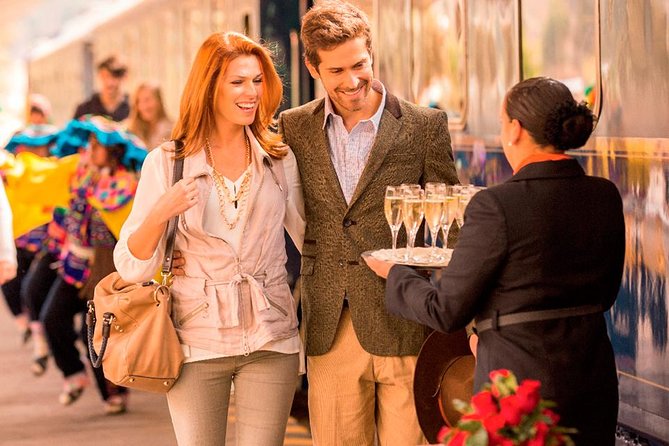 Churning through verdant farmland and Andean cloud forest at a leisurely pace, this train takes about three hours, providing panoramic views of the enchanting Sacred Valley of the Incas and leaving no detail devoid of tasteful luxury.
Who Was Hiram Bingham?
The train's namesake is an American historian, archaeologist, and explorer, as well as a U.S. senator, who lived from 1875 to 1956. Bingham is credited with discovering Machu Picchu in 1911 and broadcasting its magnificence to the world.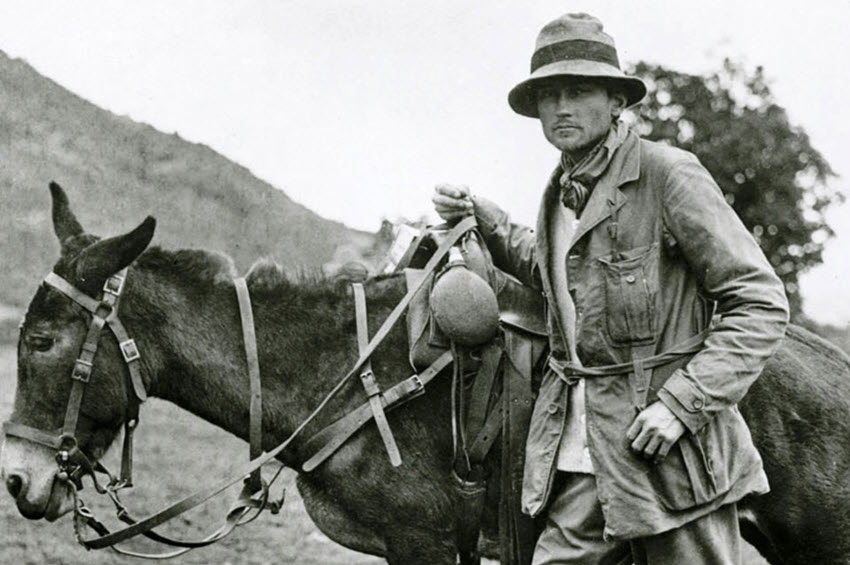 In reality, to say that Bingham "discovered" Machu Picchu is more than a stretch, it's a historical falsehood, as documented by several authors and scholars in recent years.
Historian Mark Rice does an excellent job correcting the story in his book, Making Machu Picchu: The Politics of Tourism in Twentieth-Century Peru, detailing Bingham's rocky relationship with his Peruvian hosts.
In fact, a bevy of local officials and landowners pointed Bingham right to the ruins that lay on the now world-famous saddle ridge between the twin peaks of Huayna Picchu and Machu Picchu.
When Bingham arrived to the area he'd been directed to, accompanied by a military sergeant name Carrasco. They met with a local, Melchor Arteaga, who confirmed the site's existence. Arteaga later took them up to the summit on July 24, 1911.
Upon arriving, far from encountering an abandoned "Lost City," they were greeted by a family who lived and farmed next to the ruins. It was one of that family's three young sons, Pablito Richarte, who offered the first known "tour" of Machu Picchu to none other than its "discoverer," Hiram Bingham.
Still, undeniably, it was Bingham who returned on expeditions to photograph, clear and excavate the site in 1912 and again between 1914 and 1915. He truly did reveal it to the world when his article on his exploits was published by National Geographic in April 1913. Under the title "In the Wonderland of Peru" the issue broke the magazine's circulation records and made Bingham an overnight celebrity.
We can thank Bingham (and the Incas, of course) for enabling Machu Picchu to become what it is today: a pristine, mystical city that captures the imagination of everyone fortunate enough to lay their eyes upon it.
We can also thank Bingham for another cultural contribution — maybe. There are some people who believe that he was the inspiration for another adventure-minded archaeologist who, although fictional, has greatly eclipsed Bingham in fame: Indiana Jones.
About the Belmond Train to Machu Picchu
The first important thing to know about the luxurious Belmond to Machu Picchu is that it is an extremely luxurious train. From the moment you step on board, you will have top-notch service, gourmet meals and cocktails and drinks, and extravagant sights.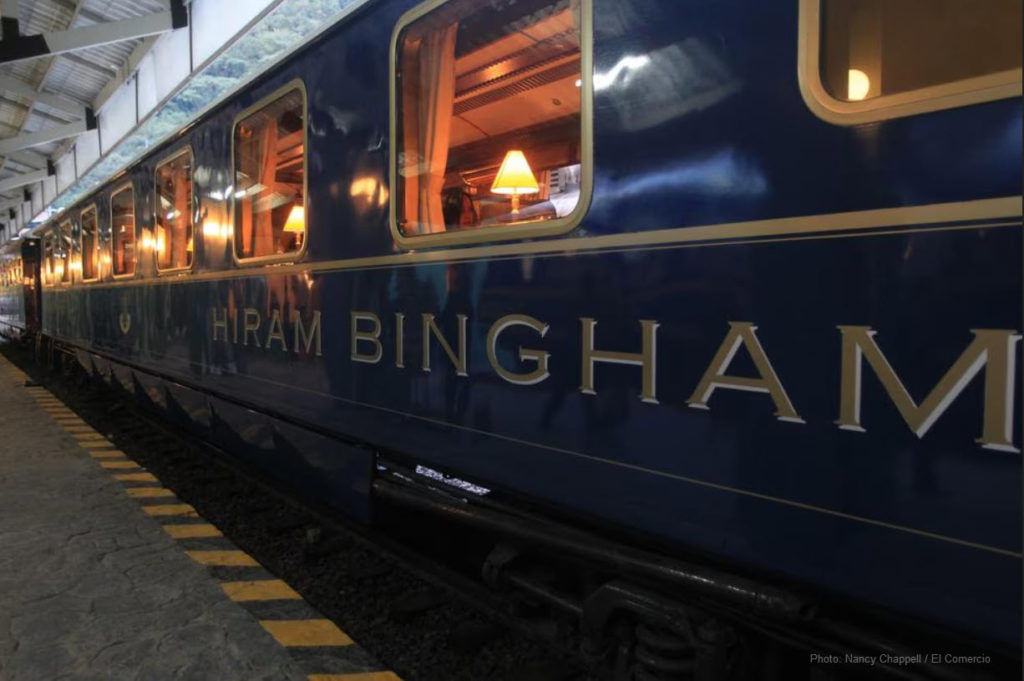 The train itself is a beautiful thing to behold. It's not just any old train — it is impeccably decorated, boasting a lustrous wood and polished brass interior and handsome furniture. Aesthetically, it is a classic luxury train that conjures the opulence that was the setting for Agatha Christie's Murder on the Orient Express.
The luxury coaches and bar car might just as well have been salvaged from the fabled Orient Express trains of the 1920s: five of its British Pullman carriages boxed up, put on a container ship and brought to Peru for restoration. That's actually not so far from the truth.
It was 1999 when James Sherwood and the Pinto family got the concession for the PeruRail line, along with a 50% stake in Machu Picchu Sanctuary Lodge and the Hotel Monasterio in Cusco.
Prior to that, they had made their early fortune with the Sea Containers company in the 1960s. They picked up a couple of the original Orient Express sleeper carriages for a song at a Sotheby's auction in the 1970s. Then in the ensuing decades they parlayed "the romance of pre-war de luxe train travel to and from exotic places" into the luxury Orient-Express Hotels brand.
As for the antique carriages that would be transformed into the de luxe train to and from Machu Picchu: Well, they got those from a bankrupt railway operator in Malaysia.
"We called it the Hiram Bingham, and put it on the tracks between Cusco and Machu Picchu, offering meals, guides, bus service and entrance to the ruins as part of the luxury package deal," Sherwood wrote in his 2012 memoir, Orient-Express: A Personal Journey.
Sherwood wrote that rising at the "ungodly" hour of 4 a.m. in Cusco to catch the early Vistadome train to Machu Picchu and then return exhausted to Cusco that same night made no sense to him.
"The Hiram Bingham train, I determined, would do it the decent way," he wrote. "Guests would depart on our gleaming blue-and-gold carriages, with a civilized send-off of pisco sours and music, at the leisurely hour of 10 a.m., have a relaxed luncheon on board, visit the ruins in the afternoon when all the early visitors had left, then enjoy dinner and a nice bottle of wine on the train back to Cusco."
The Belmond hotels and trains were acquired by Moët Hennessy Louis Vuitton in 2019 for $3.2 billion. As a result, the luxury Belmond Hiram Bingham experience only got more luxurious.
When you board, you will be lavished with a drink: sparkling wine, a pisco sour, or whatever suits your fancy. While on the train to Machu Picchu, you will be treated to an exquisite three-course meal in the opulent dining car featuring quintessential Peruvian fare.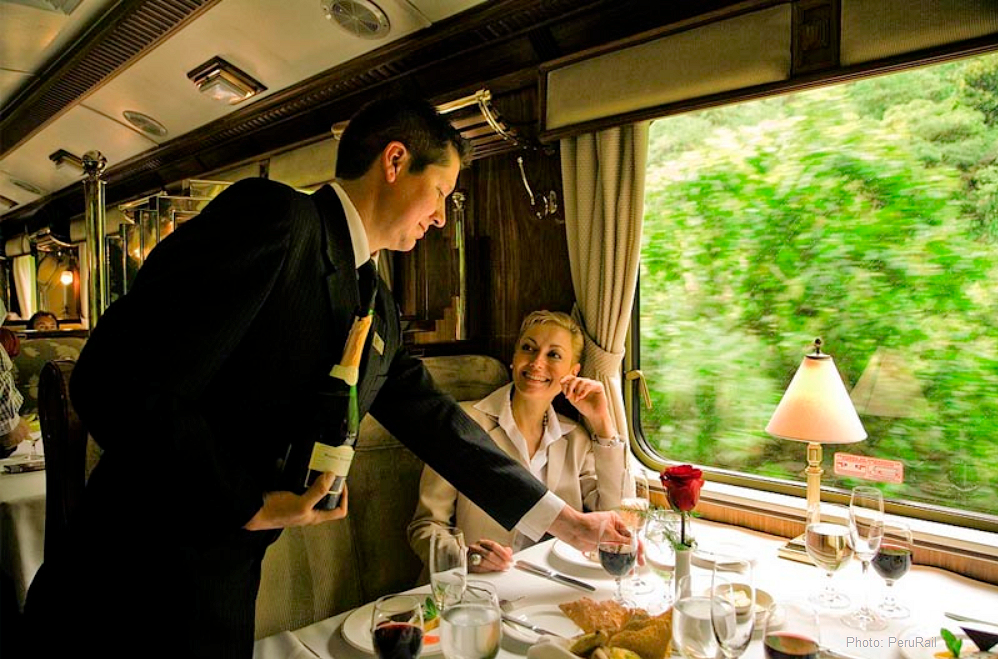 And surely you didn't think the train would be lacking in entertainment, did you? As the train from Cusco to Machu Picchu whistles along, you can hear live music, see authentic traditional Peruvian dances, and enjoy good company — not to mention the observation carriage offers you unobstructed views of the impressive landscapes. The return trip features a fabulous gourmet dinner.
Booking the Luxury Train to Machu Picchu
It's not an opportunity that comes along every day: to board a train in Cusco, once the seat of the Inca Empire and still a bastion of ancient and colonial history; to travel through the unforgettable Urubamba Valley aboard a luxurious train; and to have a guided tour of Machu Picchu, one of the seven Wonders of the Modern World. (Note: exploration of Machu Picchu with a tour guide is only guaranteed when you book your ticket at least 30 days in advance.)
The Hiram Bingham train runs between Poroy station, Ollantaytambo and Machu Picchu on Tuesday, Wednesday, Thursday, Saturday and Sunday.

From May through December, the Hiram Bingham Train departs from the Poroy station (Cusco) station and makes a stop at the Ollantaytambo Station before continuing on to the Machu Picchu Station in Aguas Calientes.
During the "rainy season" between January and April, PeruRail operate a "Bimodal" service, in which a private bus departs from Wanchaq Sation in Cusco. It takes passengers to board at the private train station at Belmond's Rio Sagrado Hotel in the Sacred Valley.
The return trip from Machu Picchu includes bus drop-off for passengers who are staying at hotels in Cusco's city center.
Fertur offers a package that extends this luxury and splendor to four days and three nights. You'll stay at the 5-star Monasterio Hotel, originally an ornate Spanish colonial monastery built on Inca foundations, an architectural treasure in the heart of Cusco. The Belmond Hotel package also includes a tour of Cusco's historic sites and an extra morning at Machu Picchu to ensure you can fully take in the beauty of the city that was "lost" for more than 350 years.
And, of course, that's all in addition to the Hiram Bingham Train, and all the incredible luxury it entails. If you are interested in our Machu Picchu Luxury Tours, we encourage you to click the link to learn more, and please feel free to reach out to a Fertur agent with the Contact Us Now form below.
Experience the Ultimate Luxury Vacation to Machu Picchu | $4,270.00 Per Person
Travel for 2
6 Days / 5 Nights
Cusco, Sacred Valley, Machu Picchu
100% Belmond Hotels ★★★★★
Excursions in Private Service
Hiram Bingham Train
Pickups and Transfers Included
Flights Lima-Cusco-Lima