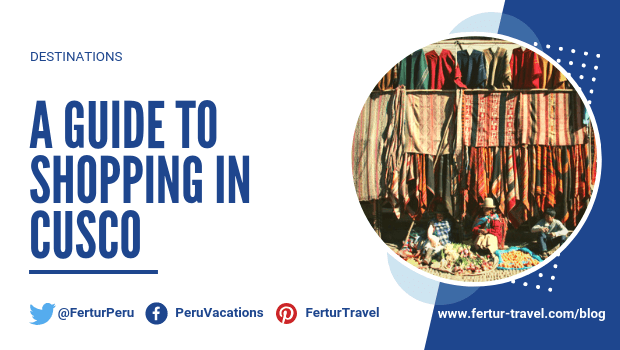 A Guide to Shopping in Cusco
When you visit Cusco, you will probably spend most of your time exploring the profound history, architecture, and culture of the city and surrounding region. But you'll also want to find a nice market to buy any last-minute supplies (for example, a poncho for the Inca Trail) or souvenirs for your friends and family back home. So we've put together a handy guide to shopping in Cusco.
Shopping in Cusco
There are a handful of great markets in Cusco and the surrounding region. In particular, there are four main markets, each with a different specialty and focus. Here's our list of the four best markets in Cusco:
You Might Also Like: The Perfect 5 Days in Cusco Itinerary
San Pedro Market (Mercado San Pedro)
The San Pedro Market is just a few blocks from the Cusco's Plaza Mayor (main plaza).
In addition to its convenient placement amid the heart of tourism in Cusco, it is also excellent for its large size and ample variety of products.
At San Pedro, you can get everything from artisan handicrafts and souvenirs to fresh fruits and vegetables and dishes cooked right in front of you.
💡 Do be careful, though — since San Pedro is a very large, public market, it's important to keep your wits about you. Keep your money and belongings hidden and secure, since tourists can be targeted by pickpockets.

The market is open 6am to 8pm Sunday through Friday and until 7 pm on Saturdays.
San Blas Market (Mercado San Blas)
The San Blas Market is an open-air market found at the Plaza San Blas, in a historic area of Cusco not far from the Main Plaza.
The market is only open on Saturdays, which makes it a little trickier to fit in to your schedule, but that also means you get a less touristic crowd and a stronger community vibe.
It's a combination of a farmer's market and a weekly festival; there is often live music to accompany the shopping. You can buy fruit and vegetables, freshly-cooked food, artisan crafts, jewelry — you name it, it's available at the San Blas Market.
Cusco Traditional Textile Center (Centro de Textiles Tradicionales de Cusco)
The Centro de Textiles Tradicionales de Cusco (CTTC) is a unique fixture in Cusco, offering a museum, workshop, and store for the finest textiles woven in a tradition dating to the time of the Incas.
The museum and workshop are great tourist attractions, but as far as markets go, you won't find better textiles anywhere than in the shop at the CTTC.
Pisac Market (Mercado de Pisac)
If you make your way to Pisac, a historic town in the Sacred Valley near Cusco, you can find one of the best artisan markets in the region. All types of souvenirs and handicrafts can be found, especially on Sunday, the market's busiest day.
Pisac itself is worth the visit, but if you do find yourself there, you can't miss the Pisac Indian Market.
About Cusco Shopping
There is plenty to do in Cusco, so we recommend planning a little extra time to check out the markets in Cusco or finding a way to squeeze them in between tours and activities.
If you seek more information about how to best visit the markets in Cusco, we encourage you to reach out to Fertur and we will have an agent help orient you to Cusco's markets and many other offerings.