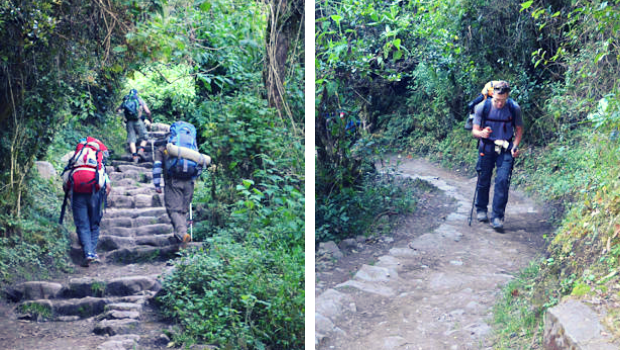 What to Take on the Inca Trail
Of the countless breathtaking destinations in Peru, the Inca Trail to Machu Picchu may be the most popular. It's a four-day, three-night hike to the Sacred Citadel of Machu Picchu, traveling the same roads that the chasquis (Incan messengers) used more than five hundred years ago to communicate throughout the empire. Since the trek is so popular, we decided to put together a comprehensive packing list of what to take on the Inca Trail for those planning to make the unforgettable journey.
What to Take on the Inca Trail
Rough Sack or Hiking Backpack — This is the first and most important piece of Inca Trail gear. A nice, sturdy rough sack or hiking backpack that can fit all of your clothes and supplies will help you make sure you don't set out on your trek without everything you need.
Rain Jacket or Poncho — The Cusco region gets plenty of rain year-round, so you want to make sure you're prepared. A good rain jacket will serve you well, but you can also get a simple, plastic poncho in Cusco for cheap.
Strong, comfortable footwear — This is absolutely crucial for the Inca Trail packing list. The Inca Trail to Machu Picchu is 27 miles (42 kilometers), so you need high-quality hiking shoes.
Jacket or sweater — Don't let your notions of Peru as a tropical destination fool you. The Inca Trail crests at nearly 14,000 feet (over 4,000 meters), and the campsites are outdoors; with that altitude, you'll need to keep warm at night, when temperatures might get as low as 30 degrees Fahrenheit (-1 Celsius).
Sleeping bag — Some touring companies may provide this, but you want to make sure either way. The last thing you want is to be stuck on the trail without a sleeping bag!
Hat or cap — It's important on the trail to be able to get some shade for your face, head, and neck. Don't set out on the trek without a hat or cap that can provide that shade for you.
Trekking poles — but with rubber "feet" (metal tips are strictly prohibited on the trail because of the damage they do to the Inca stonework!)
Strong sun block — The Peruvian sun is very strong! Make sure you bring sun block, and if you're in doubt, get a stronger SPF. At high altitudes and low latitudes, every measure of protection against the sun is necessary.
Insect repellent — It'll be hard to enjoy the wonder of Machu Picchu if you're covered in bug bites. Pack a good insect repellent and apply two or three times a day, especially around your ankles, and you won't have any issues.
Toiletries, towel, and toilet paper — As with any trip, you want to make sure you have your toiletries and a towel (for after you shower or take a quick dip in a stream to cool off). As for toilet paper, well, that should go without explanation.
Variety of small snacks, dried fruits, chocolate, crackers, etc. — While any Inca Trail tour company will provide breakfast, lunch, and dinner along the trail, it's always a good idea to pack some extra snacks that will help sustain you during the hike. Dried fruits and nuts, crackers, and chocolate are great options, and you can find them at any bodega or grocery store in Cusco.
Camera and extra film or batteries — What you will see on the Inca Trail may be etched indelibly into your own memory, but your friends will need to see photographic evidence. Don't find yourself at pristine Incan ruins without a camera!
Passport — This one might surprise you, because you're not crossing any international borders, but it's extremely important in terms of what to pack for Inca Trail. To enter the trail, local government representatives will check your passport against your permit to make sure everything checks out, and the last thing you would want is to be turned away just as you're getting started. Besides, you want to get the official Inca Trail passport stamp to show your friends. If you're interested in more information on Machu Picchu and Inca Trail Permits 2019, see our post with the latest news: Machu Picchu Rules 2019
How do I hike the Inca Trail?
There is some debate regarding which Inca Trail tour is the best, but at the end of the day, all of them are incredible experiences. Fertur offers the classic four-day, three-night trek that sets out from Km 82 and arrives to Machu Picchu early on the fourth day. There is also a full-day "Short Inca Trail" hike from KM 104 that allows you to explore the Inca ruins of Wiñayhuayna before arriving in the later afternoon to Machu Picchu, You re-enter the Sanctuary early the next day after spending the night in Aguas Calientes.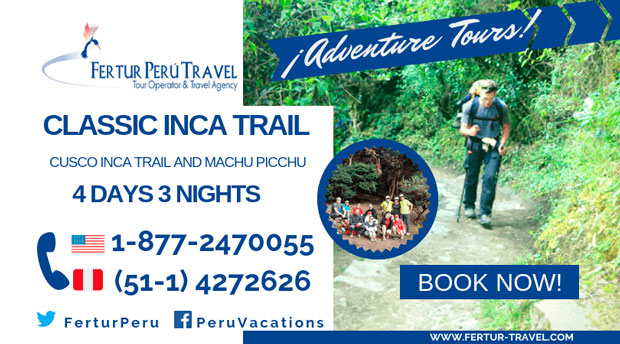 For more information about booking your spot on the Inca Trail, feel free to visit our Inca Trail page, where you can find more details about the trek: Classic Inca Trail Tour
Let us know if you're interested booking an Inca Trail adventure, or if you would like to work with us on a different Peru holiday tailored-designed to your interests.