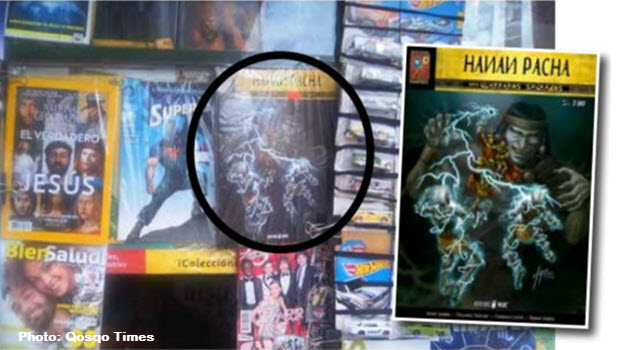 Sacred Warriors Comics on Sale at Cusco News Stands Now
If you're in Cusco and love comics, check out Guerreros Sagrados (Sacred Warriors), on sale at kiosks throughout the Inca capital.
Published by Ukucomic, the series feature heroes based on Andean mythology spanning from Huarochirí, Caral, Chavin, Paracas, Moche, Nazca, Tiawanaco, Huari and Chimu, right through the Inca Empire. The story lines are inspired by the historic Chronicles and academic ethnographies covering Peru's pre-Hispanic civilizations.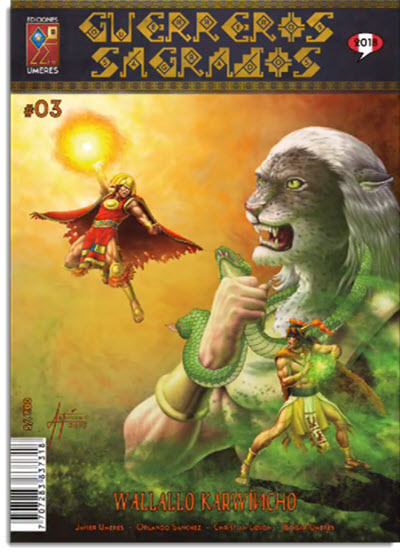 Long, long, long before there was the Marvel Universe, there was the cyclical, Andean universe, a cosmovision comprised of three realms:
Hanan Pacha (the sky and heavens, where the rains comes and condors soar)
Kay Pacha (the terrestrial world of people and animals, where the puma is supreme)
Uku Pacha (the netherworld, where the spirits of the dead dwell, and whose favor is needed for the soil to bear its fruits.)
The interaction of Andean deities and mythical creatures between these worlds symbolized the forces responsible for giving life to our planet. Their presence cultivated order, beauty and balance in the three worlds.
So Ukucomics are inhabited by such characters as Wallallo Karwincho, the supreme god of the Wankas, who has dominion over life and the rains. Just as he makes seeds take root, he also can resurrect the dead. There is the creator God Teqsi Wiracocha; the fertility goddess Killa; Lare, the mythical fox of death; and the mischievous and only somewhat evil spirit creature Saq'ra, just to name a few.
Yeah, they're just comics, but maybe more than that. They're an authentic expression of local culture. And they're really cool.
Pick one up to read, or just as a keepsake, while you're in Cusco.