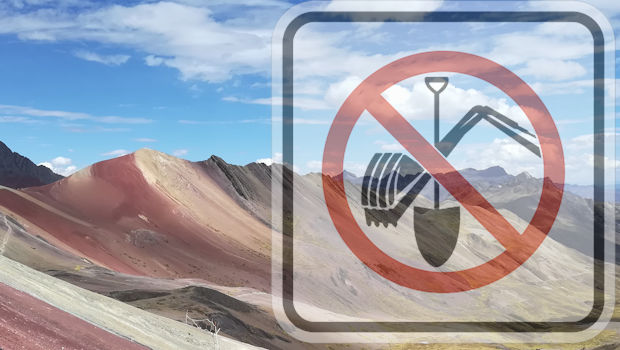 Cusco's Rainbow Mountain Averts Mining Crisis
A Canadian-owned mining company has surrendered its digging rights at Rainbow Mountain after protests by the local community and a personal intervention by Peru President Martin Vizcarra.
Minquest Peru SAC, owned by the Canadian Camino Minerals, sent a letter yesterday to the Regional Government of Cusco relinquishing the concession granted by Peru's Ministry of Energy and Mines, local media reported.
The company wrote after evaluating different alternatives its shareholders and officers were willing to cede the concession out of "their high respect and commitment to preserve the cultural and tourist" destination.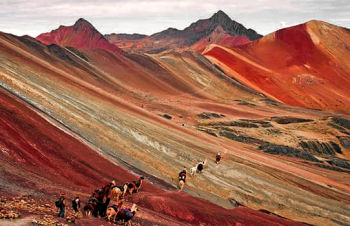 Rainbow Mountain's stripes formed by trace minerals of iron oxide red, bright yellow iron sulphide and varying shades of chlorite green have made it one of Cusco's most iconic sites.
Also known as Cerro Colorado, K'ayrawire Wininkunka, Seven-Color Mountain or, most popularly, Vinicunca, the remote mountain range was interpreted by the Ministry of Energy and Mines to be located just outside the regional conservation area of Mount Ausangate, Cusco's most sacred peak.
---
You Might Also Like: Where is Palcoyo Mountain? Learn more about this.
---
So it allowed the Geological, Mining and Metallurgical Institute to issue the mining concession to Minquest in March.
The local community of Pampachiri was up in arms after the NGO CooperAcción alerted them that Rainbow Mountain was in the middle of the mining concession called "Red beds 2," which covered an area of ​​400 hectares between the municipalities of Cusipata and Pitumarca.
Minquest announced its commitment to "safeguarding the integrity of both the cultural and touristic development of the area, as a representative and cultural icon of the Peru" yesterday, soon after President Vizcarra weighed in on his Twitter account with this sweet tweet: "The Seven Colors Mountain, an important natural conservation area, will be preserved."
Rainbow Mountain is part of a popular multi-day mountain adventure trek that we offer. It is also a popular full-day trip from Cusco. Until recently it was accessible only through Pitumarca, involving a two-hour ride by bus or car to the town, followed by a several hour long trek or horse ride. A new, shorter route opened several weeks ago from the neighboring town Cusipata.
Pitumarca receives an average of 750 daily tourists during the dry season from May to November. Serapio Llanos, mayor of Cusipata, told daily La Republica that his town hopes to attract another 1,000 visitors per day.
While local authorities work to formally include Rainbow Mountain within the protected conservation zone of Ausangate, we in the tourism sector are going to have to take a serious look at our impact on the Seven Colors Mountain and the delicate eco-system that surrounds it.
More to come….