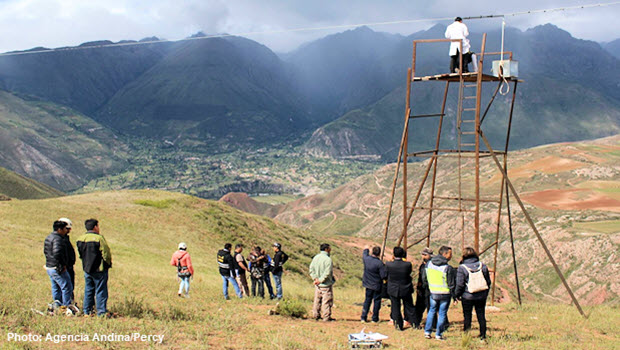 No Suspension of Adventure Sports Tourism in Cusco
Cusco's regional office of Foreign Trade and Tourism has ruled out widespread suspension of adventure tourism and instead will focus on weeding out informal tour operators following successive fatal zip line accidents that killed three people.
"We have held an evaluation among the entire sector, together with the participation of the (tourism sector) and a different proposal than the initial one was approved," said Rosendo Baca, regional director of the Ministry of Foreign Trade and Tourism.
"What we are now looking for is the closure of illegal activities," Baca told daily newspaper Correo. "We did not think applying a suspension was appropriate for the companies that are duly insured and develop this activity within a legal framework."
Following a meeting Monday between Baca and the Tourism Protection Network of Cusco, a working committee of government and tourism industry representatives, it was decided that authorities would launch a campaign of inspections to combat informality in adventure tourism sector.
Another technical panel will be convened to formulate and implement tougher safety regulations and stricter requirements to operate adventure tours, state run Agencia Andina reported. They also agreed to plan and schedule specialization courses in adventure tourism , with the participation of all stakeholders in the tourism sector.
Baca announced last week that all high risk adventure sports in Cusco might be suspended after a tourist and her adventure guide fell to their deaths when their steel zip line cable snapped.
The accident, which is still under investigation, happened at the same adventure park circuit where a Spanish tourist died in another accident in January. Her body was allegedly dumped into the Vilcanota River to cover up the incident.
The owners of Cusco Perú Zip Line, Mario Meza Auccapuma and Raúl Romaní Gómez, are in jail facing homicide charges.