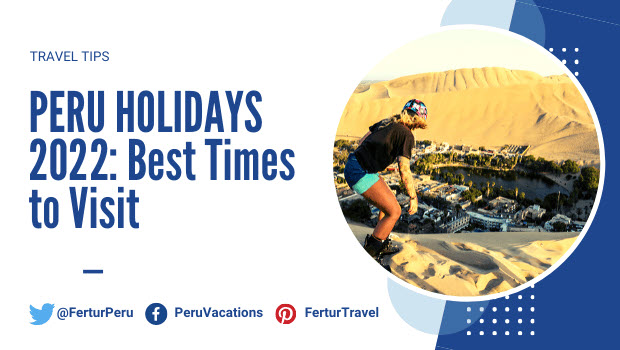 There's no experience quite like traveling to another country during a holiday. It's the best way to truly immerse yourself in a foreign culture. That's why we've put together this useful guide of Peru holidays 2022 — so you can think about traveling to see Peru holidays and festivals.
Peruvian Public Holidays 2022
---
Below is a list of the remaining public holidays in Peru for the year 2020, with some brief information on the holidays and how they're celebrated, so you can get a sense of the best time to go to Peru and experience them.
Semana Santa (Holy Week – Easter): April 14-17
As a predominantly Catholic country, Holy Week is one of Peru's most important holidays. The main festivities begin on Maundy Thursday and continue, basically without pause, through Easter Sunday.
While the historic mountain city of Ayacucho is known for having the biggest Easter celebrations, you'll find celebrations essentially anywhere you go. (Here's our pick of the best Ayacucho tours).
Día del Trabajo (Labor Day): May 1
As with the U.S., Labor Day isn't characterized by traditions and celebrations, but rather by a long weekend.
Día de San Pedro y San Pablo (Saint Peter and Saint Paul) : June 29
While this is a national holiday, it's celebrated chiefly in coastal fishing communities, as Saint Peter was a fisherman. In the city of Chimbote, you'll find the biggest celebrations, including a procession of a statue of St. Peter through the city, as well as many more festivities.
Fiestas Patrias (Independence Day): July 28-29
July 28 is Peru's national independence day, and certainly the biggest secular festival that the country offers. Much like American independence day, the fiestas patrias are full of fireworks, patriotism, and general revelry. You can find fiestas patrias celebrations everywhere around the country that weekend.
Festividad de Santa Rosa de Lima (Saint Rosa of Lima Festival): August 30
This holiday commemorates a Peruvian saint (Saint Rosa of Lima). Some Peruvians make a pilgrimage to Lima to the site of her miracles.
Celebración del Combate de Angamos (Battle of Angamos Celebration): October 8
Paying tribute to an epic naval battle that occurred during the War of the Pacific, the Battle of Angamos celebration results in a long spring weekend.
Día de Todos los Santos (All Saints Day): November 1
All Saints Day is among the most prominent Christian holidays, and in Peru, it is marked by a national holiday.
Día de la Inmaculada Concepción (Day of the Immaculate Conception): December 8
This is another religious feast holiday celebrated in Peru (and Catholic countries all around the world).
Christmas is an important holiday in Peru just as in the United States. However, Peruvians have some of their own Christmas traditions. Check out our post on Christmas dinner traditions for more information.
Custom Peru tours by Fertur
---
If you're thinking about taking your holidays to Peru, or are just looking for the best website for vacation packages to Peru — look no further. Fertur offers a variety of packages to experience these Peru Holidays 2020, so we encourage you to contact us via Whatsapp or the Contact Us Form.