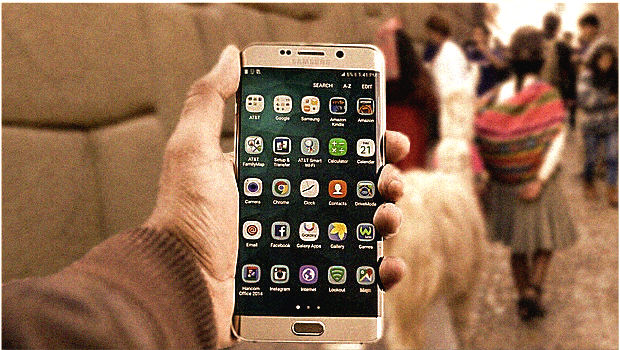 10 Essential Travel Apps For Your Peru Vacation
Some come to Peru to completely unplug, but most people these days wouldn't dream of experiencing Cusco or Machu Picchu without their SmartPhone.
We're not of the school of thought that constant connectivity and an arsenal of Peru Apps will necessarily enhance your trip. Far from it. However, below are a list of Android mobile tools we can recommend in the categories of extremely useful and lots of fun.
Top 10 Peru Travel App List
1. Time was not so long ago that exorbitant roaming fees made staying connected during your your trip unreasonably expensive. Not so true anymore. But if you don't have regular cell service — at the risk of stating the obvious — a must-have app is WhatsApp.
Not only will it allow you to communicate with friends and relatives back home whenever you're within range of hotel or restaurant WiFi, you'll also be able to reach our operations staff in case anything comes up.
2. There was a time when pocket Spanish-English dictionaries were ubiquitous in the hands of non-Spanish speaking travelers to Peru. Now there are free speech-to-text Apps that work well,  both online and offline, like Google Translate or Microsoft's Bing-powered Translator. But a $3 subscription for iTranslate Voice Pro will take you to a whole other level.
3. Ultraviolet (UV) radiation on Peru's coast and across the southern Andes and Altiplano is much more intense than in the northern hemisphere due its proximity to the Equator. UVisio is a free App that will help you control your exposure to the sun, alerting when you need to apply more sun block based on your skin type and the sun's intensity.
4. Google Maps offers highly accurate maps of Cusco, as well as the colonial towns and villages between the Inca capital and Machu Picchu, plus the ability to download those maps offline. It's also "free" as in no direct cost. You'll have to decide how much your privacy is worth, since we know Google is constantly banking your data.
5. Speaking of privacy, you should definitely consider using a virtual private network (VPN) service. There are many options for your laptop, but fewer well reviewed VPN apps for mobile phones. A good SmartPhone VPN should seamlessly encrypt your connection and help block digital eavesdroppers and snoopers, even when you move between wireless networks and/or to your cellular data plan. One VPN that is getting lots of very good mentions is TunnelBear.
6. Conversions! Whether it's the exchange rate from your home currency to Peru's Nuevo Sol, the number of kilometers to Machu Picchu into miles, the predawn temperature on the Inca Trail from Celsius to Fahrenheit, there will be conversions. And for that, there is the free app Convert Units Plus.
7. There are so many photo editing app, but one worthy of special mention is Snapseed for upping your Instagram game. This free app comes loaded with 29 tools and filters, including: Healing, Brush, Structure, HDR and Perspective, plus editing tools that can handle JPG and RAW format.
8. Speaking of Raw format, if you're one of those SmartPhone camera enthusiasts who prefers RAW file format to  capture all the visual data recorded by the sensor without compression or loss of information, and want powerful editing tools, then hands down you should consider  Adobe Lightroom. A subscription starts at $13 a month.
9. Keeping track of the files on your SmartPhone is pretty important, lest you find yourself with a full SD card just when you want to snap that iconic Machu Picchu selfie. There is no shortage of file manager apps, but Files Go by Google is an excellent option. You can free up lots of space with just a few taps — delete outdated memes from chat, erase duplicate files, uninstall unused apps, clear your cache and more.
10. So much frigging technology! Do you ever wish you could just send an old fashioned post card? There's even an app for that little bit of nostalgia. With MyPostcard you can create a personal postcard in your phone, using the photos you took during your Peru vacation. Starting at $1.99, the service covers postage to any address worldwide.