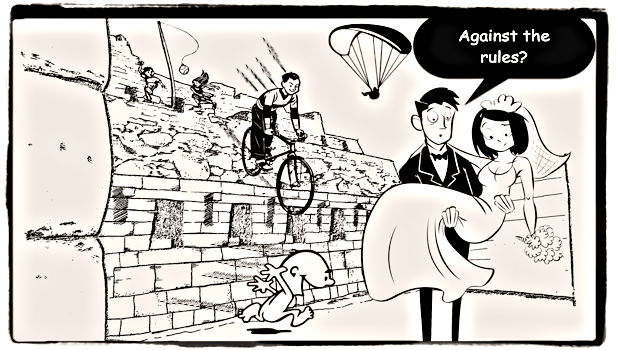 The Thou Shalt Nots of Machu Picchu
We are now in 2018. The new regulations for Machu Picchu are in full-swing. Follow the rules and we promise, Thou Shalt Be Delighted!
This is what one of our guides explained recently to a group of clients at their hotel in Aguas Calientes.
Earlier that day, he had led them on the full-day hike of the Inca Trail from Km 104. At first he was surprised by their apparent desire to get the trek over with as fast as possible. Then he was alarmed as they ignored his instructions and literally shoved past another group of trekkers. Finally, he was aghast when they reached Machu Picchu and they began hooting and hollering, to the consternation of other visitors.
When he implored them to tone it down, they became annoyed and defiant. This was their vacation! Who did he think he was to tell them how to behave?
So, with their guided tour of Machu Picchu scheduled for the next morning, he went to their hotel. He brought with him a copy of the Regulations of Sustainable Use and Touristic Visits for the Conservation of Machu Picchu. Careful to avoid undue recrimination, he explained the vital importance of respectful conduct at Peru's most famous World Heritage site. To  their  credit, they got it. They apologized and the next day  — by their own account — they enjoyed an excellent experience.
I have a confession. I once broke the rules at Machu Picchu. It was 18 years ago when I participated in a clandestine wedding. The ceremony was beautiful — the setting sacred. But before the bride and groom could say "I do" and the Shaman declared them eternally bound, we got busted.
The plan was simple enough. We were supposed to pass inconspicuously through the front entrance in groups of two and three, presenting our entry tickets like all the other tourists, and then make our way to the rendezvous point in a secluded corner of the Inca Sanctuary.
What gave us away? No one knows for sure. But I was witness to the most likely culprit. One of the bridesmaids arrived in a tight black sequined dress.
I will never forget the park guards' looks of astonishment as she passed through the turnstile ahead of me, clumsily negotiating a large wrapped gift box, and proceeded to stumble up the narrow stone path in high heels.
I stood there, with ticket in hand, and watched their long unbroken gaze following that woman up that hill until she turned the bend, out of sight. They gave each other a stare. Finally, one of them shook his head, turned around and took my ticket.
The wedding party gathered. Several of the men made a circle around the groom to form a visual barrier while he stripped naked and slipped into an ornately embroidered tunic. Several of the women did the same for the bride. We were 10 minutes or so into the wedding ceremony when three park guards arrived. Everything came to a halt.
The Shaman officiating the ceremony was obviously known to them. He was whisked aside. As he and the park officials spoke animatedly in a mix of Spanish and Quechua, we wondered when the reinforcements would arrive to escort us all out of Machu Picchu and be told never to return. But none came.
After what felt like an eternity, the park officials vanished as suddenly as they had arrived. The wedding ceremony was allowed to continue, albeit to a rushed conclusion. The Shaman felt chagrined and blamed and berated the entire wedding party for its lack of decorum. (He also hit on the woman in the black dress, rather shamelessly as I recall, during the entire journey back to Cusco.)
So the officials at Machu Picchu let us off the hook. To be sure, that wouldn't be the case today. High heels. An unauthorized shamanic ceremony. Nudity!
That's the stuff of headlines:
British tourist arrested for posing nude at Peru's Machu Picchu ruins ~ The Telegraph
Machu Picchu streakers at rock bottom as authorities enforce cover-up ~ The Guardian
Peru to tourists: 'Stop getting naked at Machu Picchu!' ~ CNN.com
But it was a different time back then in early 2000. A busy year for Machu Picchu, to be sure, at least in relative historical terms. The new millennium had arrived. Y2K had not spelled the demise of human civilization. And a record-breaking 420,390 people visited Machu Picchu.
By 2008, the figure more than doubled to 858,216, on the heels of Peru's international marketing campaign. The invitation went out to all holidaymakers worldwide to experience the Inca Citadel as one of "the Seven Wonders of the World."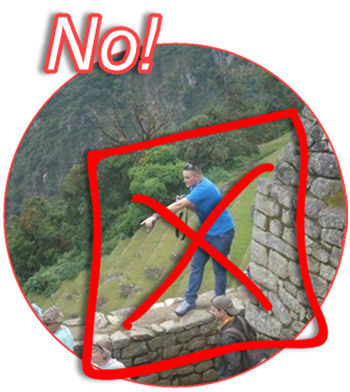 In 2016, the record was again broken: 1.4 million visitors.
With new regulations now in place and major tourism infrastructure planned over the next three years, the maximum number of people who can tour Machu Picchu will climb to around 2 million a year.
And that means behavior like climbing atop the ancient Inca walls for a better camera angle, or shoving past slower hikers than you at a narrow bend on the Inca Trail, or generally rowdy behavior of any kind at the World Heritage site, simply cannot be tolerated.
The stricter rules and these other structural changes have been years in coming. And make no mistake about it, drastically increasing carry capacity at Machu Picchu has been part of the calculus for Peru's national tourism policy from the get-go.
Starting in 2011 — the celebratory Centennial of Hiram Bingham's scientific discovery of Machu Picchu — Peru wantonly blew past the 2,500 visitor limit previously agreed to with UNESCO — and never looked back.
Despite reports to the contrary, however, UNESCO has never had a problem with the exponential increase. It was fine, as long as Peru committed to the long-overdue changes we're seeing implemented now: pre-determined tour routes, two entry shifts, mandatory guides, and major improvements to the tourism infrastructure to preserve the World Heritage Site.
During the 20-plus years I have lived in Peru, survey after survey has shown that most first-time visitors come here to experience that Wonder of the World… Machu Picchu or Bust.
There are those who argue that Machu Picchu is being exploited to the point of aesthetic ruin, that the guiding principle behind these big changes is greed, plain and simple — squeeze every tourist dollar possible out of the hewn stone temples on that craggy mountaintop.
They're missing the point. Larger economic forces are at play.
The ceiling limit of tourists at Machu Picchu inevitably impacts the overall number of tourists the country as a whole can expect, even as other less appreciated "Wonders of the World" like Kuélap, the Temple of the Moon, Choquequirao, etc., are developed and promoted.
I remember arguments made by one faction in Cusco a few years ago that Machu Picchu should be priced out of reach of budget travelers — make it an exclusive destination for wealthy tourists only. That would keep the numbers down!
Still others, many of them friends of mine, lament the loss of the Machu Picchu that they knew 20, 30 and 40 years ago, when they were privileged to wander and explore with hardly any imposed limits.
But if Machu Picchu is "Intangible Cultural Heritage of Humanity," how do you determine who gets to visit and who doesn't?
The fact is, the new rules and changes we're seeing now are going to help preserve and protect Machu Picchu for generations to come.
And in spite of the greater numbers, how many complaints do you hear from first time visitors? How many TripAdvisor reviews warn that it's a tourist trap? Not too many.
Machu Picchu doesn't lose its WOW appeal, even if you can't experience it in the same contemplative silence that Inca Pachacutec presumably enjoyed in the 15th century.
So, come. Experience it. Be respectful of the rules. You won't be disappointed.
The official list of Machu Picchu do's and don'ts:
Visitors to Machu Picchu are not allowed to:
Carry backpacks, bags or handbags larger than 16 x 14 x 8 inches (40 x 35 x 20 cm). Items that exceed these dimensions must be deposited in the cloakroom storage outside the entrance.
Enter with food and/or utensils.
Enter with any illegal substances or under the influence of any illegal drugs.
Enter with any type of alcoholic beverage or in a state of inebriation.
Carry umbrellas or parasols. (Caps, hats and raincoats are allowed.)
Carry tripods, monopods or extensions for cameras, cell phones or any other stabilizing equipment or extension for filming and/or photography, unless authorized by the Department of Culture of Cusco (DDC Cusco).
Enter with animals, except for guide dogs when strictly necessary.
Enter with any type of aerosols.
Enter with any type of musical instrument, megaphone or speakers.
Use virtual applications with cell phones or mobile devices along any narrow arteries, trails and points of congestion (the use of such technology is allowed only in large open spaces and designated explanation areas).
Enter with heels or hard-sole shoes (entrance is allowed only with shoes or sneakers that have soft or rubber sole).
Enter with baby carriages or strollers (only baby backpack carriers with non-metal frames are allowed).
Enter with sharp instruments and/or weapons of any kind.
Enter with banners, posters and/or placards, among other objects of this type. (The use of pennant are allowed exclusively for tour guides leading groups of at least 5 visitors and are limited to the model and dimensions determined by competent authorities in coordination with the respective guides).
Cause disturbances, hop, jump or generate disorder along the entry path to the Machu Picchu Sanctuary and/or at any point within the complex.
Enter with clothing intended for advertising purposes.
Climbing or leaning on walls and/or structures.
Touch, move or extract lithic elements.
Perform any type of graffiti.
Disturb, collect or extract native flora or fauna and/or cultural elements.
Carry out activities that distort the sacred character of the Machu Picchu Sanctuary, such as fashion shows, dances and social engagements, ceremonies of any kind.
Enter with portable stools or seats, among others.
Enter with trekking poles with metallic or hard tips (Canes and poles are allowed for use by elderly people or people with obvious physical handicaps, and in general as long as they have rubber tips).
Carry out any type of activity that implies the impairment or deterioration of the Machu Picchu Sanctuary, its natural environment and/or facilities.
Obscene acts contrary to morality and good manners.
Undress, wear costumes, lie down, run and/or jump.
Smoking or vaping.
Make loud or annoying noises such as clapping, screaming, whistling, singing, among other actions, because it disturbs the tranquility and the sacred character of the Machu Picchu Sanctuary.
Make any kind of fire.
Dispose of waste of any kind.
Disrespect the established circuits and routes.
The commercial sales in the interior of the Sanctuary of Machu Picchu and spaces the Puente Ruinas bridge.
Feed the domestic and wild animals of Machu Picchu Sanctuary.