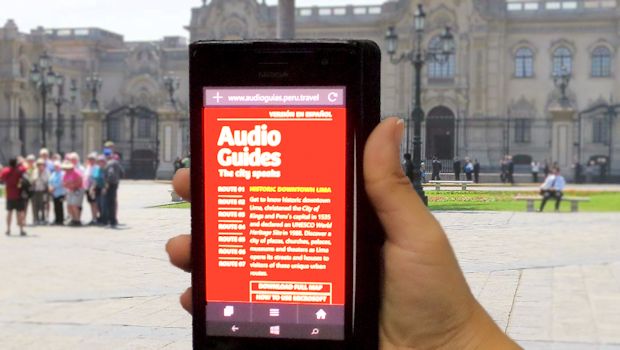 Download free audio tours of the Historic Center of Lima
If you find yourself in Lima's historic downtown for some sightseeing with just a guidebook, orienting yourself with that tiny map and small print on that wispy thin paper can be cumbersome.
Here are a couple of alternatives…
You could walk just a few yards off the Plaza de Armas to our office and arrange a guided tour of Lima. You would quickly realize why UNESCO declared the City of Kings a World Heritage Site in 1988.
Another way to go, if you have a smartphone or tablet with an Internet connection at your hotel, is to download full audio-visual guided tours for seven attraction routes in Lima's Spanish Colonial Center.
The App is called "Audio Guides: The City Speaks" and offers interactive menus and Google location maps with synced narration in English or Spanish. The tours have been available since 2011, the creation of Peru's Ministry of Tourism (MINCETUR) and the Municipality of Lima.
The tours include: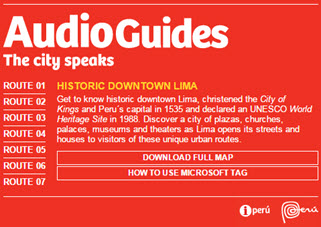 Plaza Mayor, palaces and churches.
Santos, heroes and boulevards.
Historic architecture and Rimac River
Balconies, San Pedro Church and cultural centers
St. Augustine, theaters and houses
From Plaza San Martin to University Park
Art, museums and parks
The audio guides can be downloaded from MINCETUR's website: http://audioguias.peru.travel/