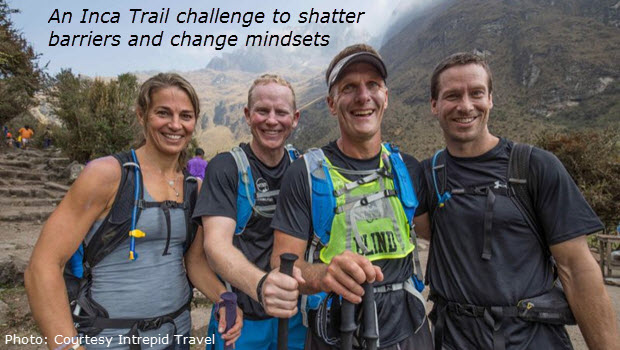 Inca Trail challenge redefined by blind athlete
In the category of irresistibly inspiring and uplifting: Dan Berlin, a 45-year-old, legally blind athlete from Colorado, ran the 26-mile Inca Trail to Machu Picchu in a day.
He is the first blind person to run, not hike, South America's most famous ancient mountain route.
Ascending to the 13,779-foot Warmihuañusca "Dead Woman's" Pass, transversing treacherous ledges next to vertical abysses, and descending thousands of steep  Inca stone steps to the Machu Picchu Sun Gate is a rigorous four-day affair for most people.
Berlin, who lost his sight completely to cone rod dystrophy 10 years ago, did it nonstop in 13 hours.
Working with a small non-profit outfit of specialty guides called Team See Possibilities, Berlin set out before dawn on the morning of Oct. 14. They arrived at Machu Picchu's Inti Punku just before dusk.
"We're labeled with limitations, but you don't have to be defined by them," Berlin told the Summit Daily of Colorado a week before embarking on his trip.
"My barrier is pretty obvious — I'm bind. But a lot of my barriers have nothing to do with eyesight," he said. "A barrier might be something that I've done before, something that a blind person hasn't done before, but we have to keep facing it down. We grow and we challenge ourselves."
The expedition was sponsored by the international tour company Intrepid Travel, Altra Running, Smartwool and UNICEF. The purpose is to raise money for the Blind Institute of Technology and to help UNICEF encourage children with disabilities to participate in sports.
As of this writing, Dan Berlin and Team See Possibilities have collected $3,989 of their fund-raising goal of $10,000.
Go ahead and give $25 or $50 or $100… I did.
100% of donations are being split between:
The Blind Institute of Technology, a non-profit that helps place and train vision-impaired employees into technology companies, and
UNICEF, the United Nations Children's Fund, and its efforts to assist disabled children in developing countries