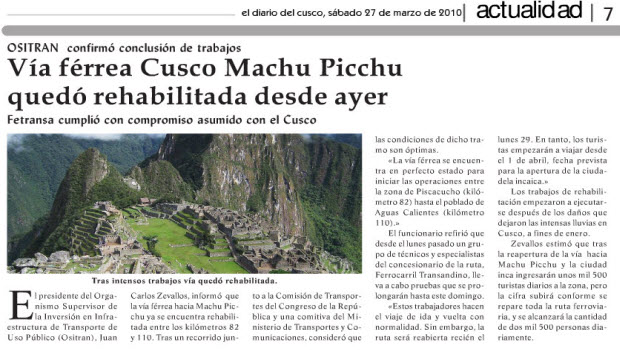 Limited train service to Machu Picchu set to resume today, but expect some wrinkles…
The long-anticipated resumption of train service to Machu Picchu is set to start today— three days ahead of the official reopening of the Inca citadel after torrential rains in late January transformed the Vilcanota River into a raging torrent that ripped apart much of the rail line.
Siduith and I traveled to Piscacucho on Saturday with Fertur Peru Travel's Cusco office manager, Diana Achahuí, to see for ourselves what the road conditions were like and how work on the train stop was progressing.
As predicted in an earlier post, it remains a safe bet that the first week or two of train operations from Piscacucho to Aguas Calientes will be chaotic.
Travelers should be prepared for possible delays.
On Friday, Juan Carlos Zevallos, the president of Peruvian transport regulator Ositran, announced after inspecting the train line that it is "in perfect condition to begin operations between Piscacucho and Aguas Calientes."
Zevallos estimated that as of April 1, the train line would transport 1,500 tourists daily to Machu Picchu, and that that number would increase gradually to 2,500 as the rest of the rail line was repaired, El Diario del Cusco reported in its Saturday edition.
But while rail servcie from Piscacucho to Aguas Calientes has received a clean bill of health, getting to Piscacucho remains another matter.
The narrow, unpaved road from Ollantaytambo to Piscacucho has not been adequately adapted for two-way traffic to accommodate buses and vans carrying 1,500 tourists daily to and from Machu Picchu.
A bulldozer widened the road at a hairpin turn on Saturday about two kilometers from Piscacucho. The work took place precariously close to a sheer drop-off down to the river, where an 80-meter length of track was ripped apart and washed away in January.
Closer to Piscacucho, a dump truck was just starting to lay down gravel on the dirt road.
The train station did not appear ready for train departures to begin in two days.
Three massive 10,000-liter water tanks were lined up, still wrapped in plastic, alongside the tracks.
The ground was strewn with wheel barrels, shovels and picks, and mounds of upturned earth.
Men in hard hats worked on ladders, installing power lines and lights, and applying a coat of white paint to provide a face lift to the run-down station building, which was topped with a rusting corrugated steel roof.
Other workers were busy with the construction of an artisan's market next to the parking area.
Local authorities are trying to establish an alternate road strictly for vehicles retuning to Ollantaytambo in order to allow for a steady flow of one-way traffic in and out. But we were told by a local hotel owner that one person has yet to grant permission for the road to cut across his land, and that is holding up the plan.
Official projections that the rail line between Poroy/Ollantaytambo and Aguas Calientes will be fully repaired by June appear to have been overly optimistic.
Damage to the stretch of track right before Piscacucho is catastrophic and work to replace it has only just begun.
Workers at the site told us it could take them six months to complete the repairs.