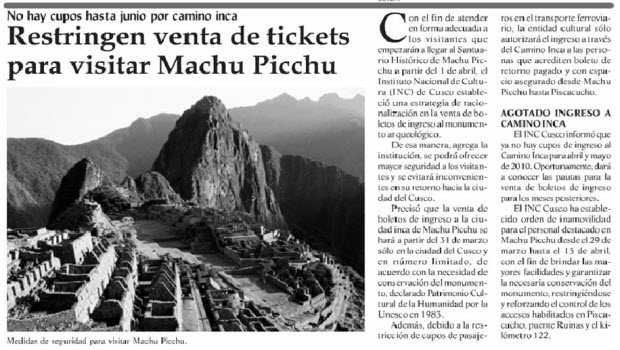 Peru's INC says it will limit sale of Machu Picchu tickets when rail service resumes
Peru's National Institute of Culture (INC) said Monday it will ration the number of entrance tickets to Peru's most popular tourist destination to prevent the site from being swamped by visitors after it reopens on April 1, the Peruvian Times reported.
News that the INC planned to limit the number of Machu Picchu entrance tickets was first reported Saturday by the South American Explorers in an "Urgent Note" to its members, posted on its Cusco Clubhouse page.
"The sale of entrance tickets to the citadel of Machu Picchu will start March 31 only in the city of Cusco and in limited numbers, in accordance with the need for conservation of the monument, which was declared Cultural Patrimony of Humanity by UNESCO in 1983," the INC told state-run news agency Andina.

The INC also said that it will only allow hikers onto the Inca Trail if they show they have a return ticket and confirmed seat on the train from Machu Picchu to Piscacucho. Entrance tickets onto the Inca Trail are already sold out for April and May, Diario del Cusco reported.

About 33 people, including tourists, government officials and travel agents, boarded a PeruRail train Monday for a test run on the rebuilt track, daily Peru.21 reported. They traveled between the station at Piscacucho at Km82, where the entrance to the Inca Trail is also located, and Aguas Calientes – the tourist town that sits in the ravine below Machu Picchu.

On Friday, Juan Carlos Zevallos, the president of Peruvian transport regulator Ositran, announced after inspecting the train line that it is "in perfect condition to begin operations between Piscacucho and Aguas Calientes."

Zevallos estimated that as of Thursday, April 1, the rail servcie would transport 1,500 tourists daily to Machu Picchu, and that that number would increase gradually to 2,500 as the rest of the rail line is repaired, El Diario del Cusco reported.