Peru air traffic controllers plan 72-hour walkout
Aviation authorities say planes will still fly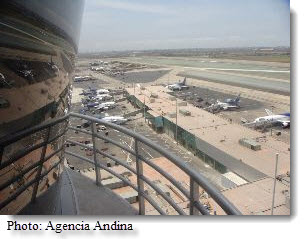 Be prepared for possible flight delays in the coming days in Peru.
The five unions representing Peru's air traffic controllers announced a 72-hour nationwide work stoppage from 7 a.m. Wednesday until the same time Saturday morning.
The air traffic controllers are demanding that the civil aviation authority (CORPAC) hire additional specialized operating staff to help handle increased air operations and payment of outstanding benefits, among others things.
"We are running with too few technicians. We're working overtime and this is causing extreme fatigue," David Cervantes, the Unified Trade Union of Air Traffic Controllers of Peru (Sucta) was quoted saying by the aviation news site Aeronoticias. "If this situation is exacerbated, accidents can happen."
CORPAC plans to bring in air traffic controllers from other countries, as well as assign Peruvian Air Force personnel, to keep the planes flying.