Machu Picchu 4 Days 3 Nights: Book Now and Save With Us!
---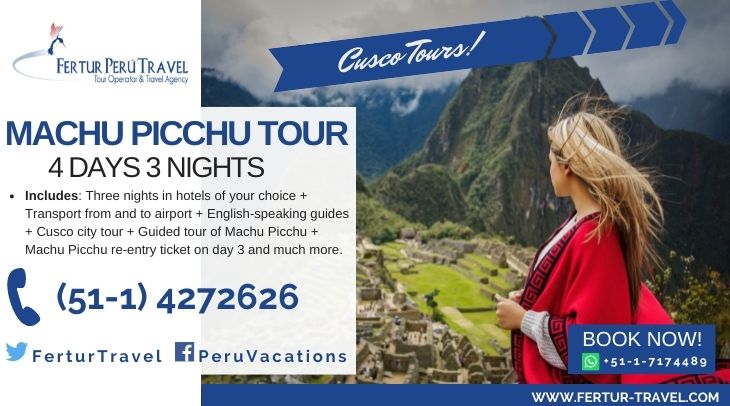 ---
A four-day vacation to explore Cusco and its archaeological ruins. And if one day at Machu Picchu is not enough, then this tour is for you. Book now this Machu Picchu 4 days tour!
An overnight excursion to Machu Picchu to experience the mystic grounds of the Inca citadel at a more relaxed pace after the visitors from the morning entry shift have rushed back down to Aguas Calientes station in the valley below to catch the train back to Cusco.
Return to the ruins the next morning for peaceful contemplation before the first tourist train arrives.
Includes
Transport from and to airport
Two nights in the hotel of your choice in Cusco (You consider making your reservation at the Palacio del Inka hotel).
One night in the hotel of your choice in Aguas Calientes/Machu Picchu
English-speaking guides
Cusco city tour
Orient Express Expedition Train
Guided tour of Machu Picchu
Entrance fees to historic and archaeological sites
Machu Picchu re-entry ticket on day 3
Prices available upon request
Machu Picchu 4 Days Tour Package: The Best Itinerary
Day 1: City Tour and Archaeological Ruins
Pickup at the airport and transfer to your hotel. Because of the high altitude, 11,152 feet above sea level (3400m), it is highly advisable that you take a short rest to acclimatize.
In the afternoon, you will have a city tour highlighting Cusco's historic past, the fusion of Inca and Spanish architecture. The excursion features walk-thru tours of the Cathedral and the ruins of Koricancha (or Temple of the Sun), which was looted and razed by the Spanish, who then constructed the Santo Domingo Church on its massive foundation.
You will also explore the four main ruins just outside the city: the Sacsayhuaman Fortress, Kenko, Puca Pucara, and Tambomachay.
Day 2: Machu Picchu Excursion
Breakfast at the hotel, then pickup and transfer to the train station to board PeruRail's Expedition Train for the 4-hour journey to Machu Picchu, the "Lost City of Inca."
Experience this mysterious ruins, with its ingeniously engineered underground water canalization and its sacred citadel of temples, mausoleums, squares and royal houses with a certified guide. Widely believed to have been built in the mid-15th century by Inca Pachacutec, Machu Picchu was the secret city of the Inca, never discovered by the Spanish.
Its rediscovery for the world was made in 1911 by American explorer Hiram Bingham, and it remains South America's most spectacular archaeological site. Lunch at the Machu Picchu Sanctuary Lodge beside the ruins. Overnight in Aguas Calientes. (B/L)
Day 3: Machu Picchu – Cusco
Breakfast. Early wake-up is highly recommended to appreciate the sunrise and also to explore these magnificent ruins in peace, before most other tourists arrive. Breakthrough research and new discoveries continue to reshape our understanding of the site.
In just the last decade, a small, but vocal, group of researchers have got behind an intriguing theory from Peruvian archaeologist Luis G. Lumbreras. He believes that Machu Picchu is in fact Patallaqta, a "Royal Mausoleum" built — much like the Egyptian pyramids were for the ancient pharaohs — to venerate the 9th Inca Pachacutec after his death.
Afternoon train back to Cusco. (B)
(Note: if you wish to climb Huayna Picchu or Machu Picchu Mountain, it must be arranged in advance and an additional cost applies.)
Day 4: Transfer out
Breakfast. Transfer from the hotel to the airport. (B)
(B) Breakfast, (L) Lunch, (D) Dinner
Suggestion: Altitude is a consideration for anyone planning to travel to Peru's highlands. For trips to Cusco, it can make a huge difference to spend your first day in the Sacred Valley (2,400 mts./9,000 ft) to acclimatize and avoid problems with altitude sickness, before ascending to the Inca capital city of Cusco (3,360 mts./11,152 ft.). We are happy to adjust your itinerary to help ensure that "soroche" isn't a factor during your vacation.
---
Contact Us: Get a quote for Machu Picchu 4 Days Tour
To book your vacation now or consult with us, fill out the "Contact Us" form to the right and a Fertur Peru Travel coordinator will contact you within one working day with detailed information about your fully customizable trip. Fertur's pledge is to offer you top-quality, individualized attention that starts with the planning of your trip and continues through your journey to guarantee a great Cusco tour packages.
5-Star Hotel in Machu Picchu: Machu Picchu Sanctuary Lodge