Eco Inn Cusco Hotel & Spa: Book Now!
---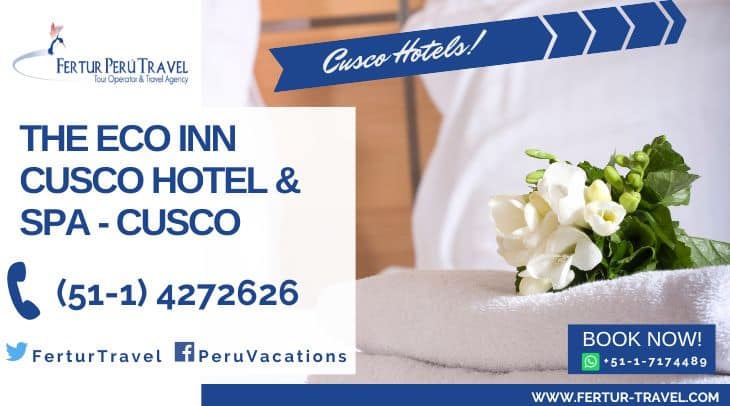 ---
One of the newer hotels in Cusco and among the few which are fully environmentally sustainable, the Eco Inn Cusco is located just across from the artisans' market and a short walk from the Qoricancha. Pleasant, airy rooms surrounding an interior courtyard are equipped with 100% cotton sheets and towels. The hotel uses solar power and has one of the few waste recycling programs in Cusco. A river stocked with local fish runs through the Atrium Café restaurant, where all the dishes are made with fully organic, locally produced ingredients.
⭐⭐⭐⭐
Prices available upon request
The Eco Inn Cusco Hotel & Spa
The Eco Inn Cusco Hotel & Spa prides itself on providing an environmentally sustainable luxury stay in the heart of the Inca capital. Using solar power and waste recycling whenever possible, the hotel makes maximum use of natural light throughout the building, uses organic, local ingredients in its restaurant and offers spa treatments inspired by Inca rituals.
Hotel Features:
167 Rooms
3 Suites
47 King size bed
95 Double bed
18 Single bed
4 Handicap equipped rooms
Safe deposit
Wi-Fi Internet connection
Cable TV (LCD flat screen)
Heating
Room service until 11 pm
Direct and international telephone
Bathroom telephone
Facilities:
Tak Spa Sauna, hydro massages,steam, special treatments, massage menu Atrium Café with waterfall and riverflow Samay Oxygen Lounge (for altitude symptoms)
Wi-Fi Internet
Connection Business center
Laundry service
Shops
Mystic patio
Natural materials and finishes used in construction Natural light in hallways and in room balconies Solar heating system for water and energy when the location allows it
Recycling of waste 100% cotton linen Natural product room amenities (shampoo, soap, etc.)
Lobby Atrium with waterfall, riverflow, flowers, gardens and greens in all areas
Gastronomy based on organic grown food Rooms decor with local flavor Environmental programs in benefit of the region.
---
Contact Us: Book Eco Inn Cusco!
To book your vacation now or consult with us, fill out the "Contact Us" form to the right and a Fertur Peru Travel coordinator will contact you within one working day with detailed information about your fully customizable trip. Fertur Peru Travel's pledge is to offer you top-quality, individualized attention that starts with the planning of your trip and continues through your journey to guarantee a great vacation.
Go Back to Cusco Hotels