Picoaga Hotel: Book Now at www.fertur-travel.com
---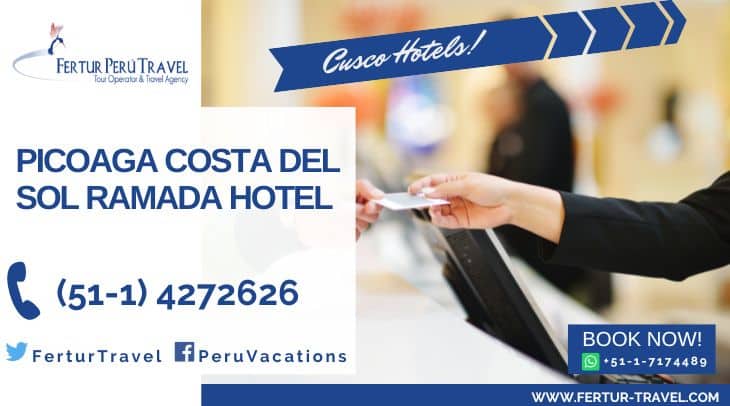 ---
The 17th century mansion of the Marquis de Picoaga boasts a beautiful two-story archway entrance and a series of traditional colonial columns encircling a peaceful, flower-filled courtyard. The Picoaga hotel has a colonial and a modern section; rooms in both are similar but the colonial section is decorated with traditional Peruvian tapestries. Peruvian and international cuisine is offered in the Mirador and Virrey Restaurants, the former with outstanding panoramic views of the city and the latter in a charming colonial salon.
⭐⭐⭐⭐
Prices available upon request
Picoaga Costa del Sol Ramada Hotel
Originally the mansion of the 17th century Spanish nobleman Marquis de Picoaga, the Picoaga Hotel retains its authentic colonial ambiance with luxurious furnishings, fine stone archways and columns, capiteles and Spanish patio, plus all modern amenities, including: wall-to-wall carpeting, central heating, air conditioning, security safe, Cable TV, fridgebar, personal hairdresser, telephone with local, national & international dial and wake up calls.
Hotel Features:
77 rooms
Safe
Room service
TV/Cable
Direct dial phone
Central Heating
PC and Internet access
Picoaga Hotel Facilities:
El Mirador and the El Virrey Restaurants, offering Peruvian and international cuisine.
Los Candiles bar.
The Perricholi conference room.
---
Contact Us: Check prices for your dates!
To book your vacation now or consult with us, fill out the "Contact Us" form to the right and a Fertur Peru Travel coordinator will contact you within one working day with detailed information about your fully customizable trip. Fertur Peru Travel's pledge is to offer you top-quality, individualized attention that starts with the planning of your trip and continues through your journey to guarantee a great vacation.
Go Back to Cusco Hotels