Apu Huascaran Hostal – Book today at the best price!
---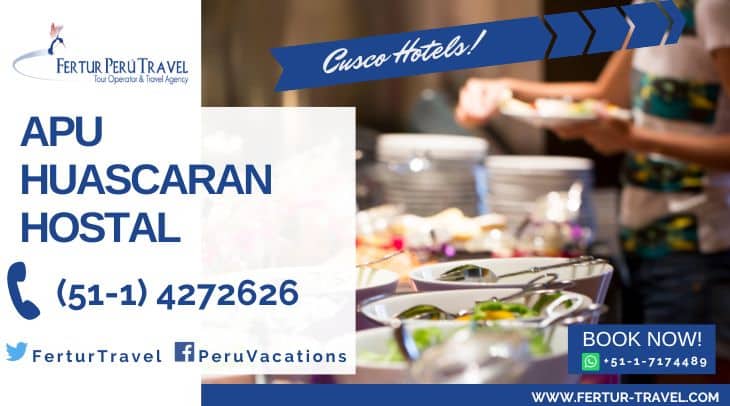 ---
The boutique Apu Huascaran is a 17-room hotel on a quiet corner of Cusco's San Blas quarter, a block from the Plaza and Church of San Blas. Apu Huascaran is our top pick in Cusco for quality, service and comfort at a super economic rate — a great value. Run as of early 2013 by Maxy and Luis, the hotel has undergone a makeover, with new bathroom fixtures and 24-hour hot water. The Apu Huascaran is a great choice for families with children traveling to Cusco on a budget.
⭐⭐⭐
Apu Huascaran
Prices available upon request
Hotel Features:
In-room safe deposit box
Fax
Free wireless Internet
Buffet breakfast (Use of kitchen by guests can be arranged upon request)
Laundry Service available
Photocopier
Concierge/Travel booking and Confirmation
Daily Housekeeping
---
Contact Us:
To book your vacation now or consult with us, fill out the "Contact Us" form to the right and a Fertur Peru Travel coordinator will contact you within one working day with detailed information about your fully customizable trip. Fertur Peru Travel's pledge is to offer you top-quality, individualized attention that starts with the planning of your trip and continues through your journey to guarantee a great vacation.