Casa Andina Private Collection Puno: Book Now!
---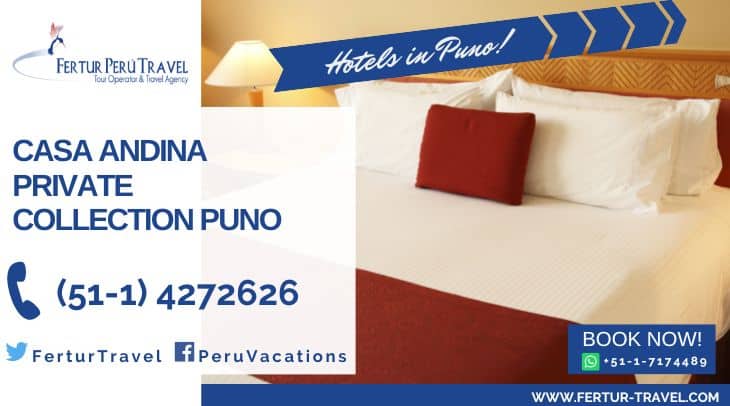 ---
Perched on the shores of Lake Titicaca and looking across to the city lights Casa Andina Private Collection Puno offers 46 luxury rooms and one suite at 3,800 meters above sea level. A private pier gives boat access to the world's highest navigable lake just meters from the hotel, while the lobby bar and gourmet restaurants offer panoramic views out to the islands, from a chic slate and stone walled setting. For guests struggling with the altitude, rooms with oxygen are available on request.
⭐⭐⭐⭐⭐
Casa Andina Private Collection Puno
With jaw-dropping panoramic views across the water to Puno and out to the islands from the lobby, restaurant and most guest rooms, Casa Andina Private Collection provides a luxurious setting for a visit to Lake Titicaca. Including a private train stop, and the latest in Novo Andino gastronomy the hotel is the only one in Puno to offer oxygen in every room.
Hotel Features:
46 Rooms,
16 Superior Rooms (mountain view),
29 Superior Rooms (lake view),
1 Suite,
5 smoking, 1 handicapped, 6 connecting, 5 oxygen pressurized
Most rooms have expansive lake views, and in the newest wing, all rooms overlook both gardens and Lake Titicaca. Alone among Puno / Titicaca hotels, pressurized oxygen is available in every room.
Superior rooms (Mountain View) in the main building have full-size or King beds and are decorated in a sophisticated but rustic style, with views of the Andean high plateau.
Superior rooms in the main building have full-size or King beds and are decorated in a sophisticated but rustic style, and many feature wooden balconies. Rooms in the newer wing, nearer the lake, are slightly more classic in appearance. Six pairs of connecting rooms in the new wing are ideal for families.
Suite on the 2nd floor with spectacular 180-degree views of Lake Titicaca. It features a Super King bed, separate living room, wood-burning stove chimney, 2 balconies, and a huge tiled-and-marble bathroom with a giant Jacuzzi tub, as well as its own air purifier-oxygen pressurization.
Pressurized oxygen available in rooms and suites upon request
Bathtub
Telephone
Hairdryer
A/C & heat
Cable TV
Free high-speed Wi-Fi Internet access
Safety deposit box
Coffee maker & coffee supplies
Facilities:
Restaurant features two large, wood-burning fireplaces, wrought-iron light fixtures, and gorgeous views of Lake Titicaca from a wall of tall windows framing the lake — sunsets are spectacular.
Pressurized oxygen available in rooms and suites, upon request.
Lounge bar with large stone fireplace.
Outdoor terrace/bar overlooking Lake Titicaca.
Private pier (for boating excursions to Lake Titicaca islands).
Private train stop (available for groups incoming from Cusco).
Free computer & Wi-Fi Internet access throughout hotel.
Business center with free high-speed Internet access.
---
Contact Us:
To book your vacation now or consult with us, fill out the "Contact Us" form to the right and a Fertur Peru Travel coordinator will contact you within one working day with detailed information about your fully customizable trip. The pledges of our travel agency is to offer you top-quality, individualized attention that starts with the planning of your trip and continues through your journey to guarantee a great vacation.
Go Back to Hotels in Puno