Eco Inn Colca Hotel. Book now with Fertur Peru Travel!
---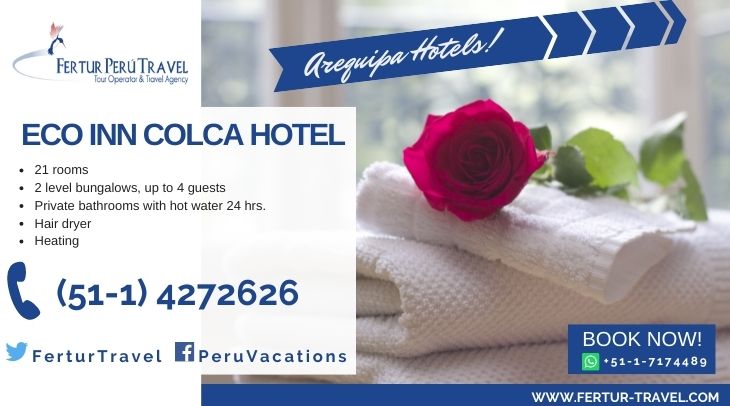 ---
Eco Inn Colca is nestled in the charismatic town of Yanque, in the midst of pre-Incan agricultural terraces that are still used to grow quinoa. The inn offers 21 rooms and features two-level bungalows, each with space for up to four guests. A restaurant offers panoramic views of the canyon, and friendly staff offer 24 hour front desk service and oxygen assistance to curb the effects of the high altitude.
⭐⭐⭐
Prices available upon request
Book Now!
Book now Eco Inn Colca hotel and enjoy your stay
Nestled on the slopes overlooking the southern banks of the Colca river, near the village of Yanque, this rustic, but comfortable and totally eco-friendly hotel offers sweeping vistas of the Colca Canyon. The Eco Inn Colca Canyon is a perfect place to disconnect from the bustle of modern civilization and unwind under azure skies by day, and spectacular starlit heavens at night.
Hotel Features:
21 rooms
2 level bungalows, up to 4 guests
Private bathrooms with hot water 24 hrs.
Hair dryer
Heating
Room service until 11 pm
Direct dial national and International telephone
Oxygen assistance for high altitude sickness
Facilities:
24-hours front desk.
Cyberdesk 24 hours.
Panoramic view restaurant service until 11 pm.
Laundry service.
Mail service.
---
Contact us: Reserve your preferred room at Eco Inn Colca hotel
To book your vacation now or consult with us, fill out the "Contact Us" form to the right and a Fertur Peru Travel coordinator will contact you within one working day with detailed information about your fully customizable trip. Fertur Peru Travel's pledge is to offer you top-quality, individualized attention that starts with the planning of your trip and continues through your journey to guarantee a great vacation.
Go Back to Arequipa Hotels