Celestial Cusco & Machu Picchu: The Best Ancient Inca Astronomy Tour
---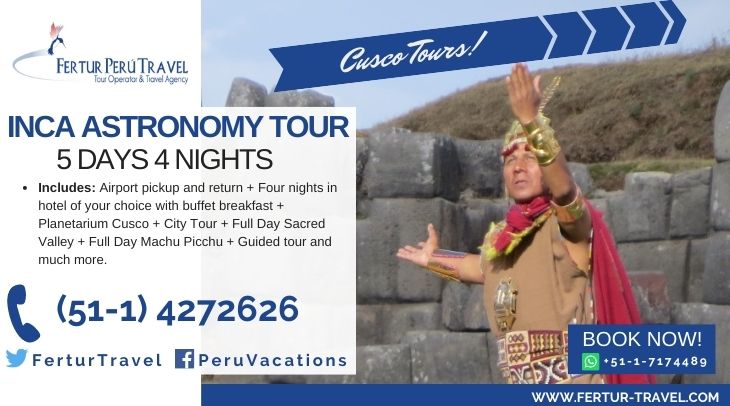 ---
In the 15th century, the Inca landscape was a sacred space, conceived according to the alignments of "huacas" — mountains, springs, rocks and shrine deities — integrally connected to a lunar-stellar calendar. Inca priest-astronomers read the sky, lining up natural and man-made markers on the horizon that radiated out from Cusco, the navel of the universe. Book now this ancient Inca astronomy tour with Fertur.
This 5-day program sets your sights on that celestial sphere. The ancient Inca cosmo-vision will be front and center in your mind as you visit the incomparable ruins of Machu Picchu, Cusco and the Sacred Valley.
Prices available upon request.
If you're interested in astronomy and the power of ancient myth, or simply want to learn about the constellations of the Southern Hemisphere, this Cusco vacation is for you. Click here to learn about one striking example of how ancient celestial beliefs are still practiced in Peru's highlands.
Includes:
Airport pickup and return
Four nights in three star hotel with buffet breakfast
English-speaking guides
Nighttime excursion to Planetarium Cusco: Interpretation Center for Inka Astronomy and Southern Skies
Cusco city tour
Sacred Valley tour with lunch
Orient Express Expedition Train
Guided tour of Machu Picchu with lunch
Entrance fees to historic and archaeological sites
Ancient Inca Astronomy Tour: 5 Days 4 Nights
DAY 1 Planetarium Cusco: Inca astronomical inerpretation
Pickup at the airport and transfer to your hotel. Because of the high altitude, 11,152 feet above sea level (3400m), it is highly advisable that you take a short rest to acclimatize.
In the evening, dress warmly. You will be picked up from your hotel for transport to the Planetarium Cusco: Interpretation Center for Inka Astronomy and Southern Skies for a fascinating night of Inca astronomy, history, mythology, architecture and — weather permitting — some amazing star gazing.
DAY 2 City Tour
During the afternoon, you will be taken on a city tour highlighting Cusco's historic past, the fusion of Inca and Spanish architecture. The excursion features walk-thru tours of the Cathedral and the ruins of Koricancha (or Temple of the Sun), which was looted and razed by the Spanish, who then constructed the Santo Domingo Church on its massive foundation.
Then you will visit the four major archaeological ruins above the city: the Sacsayhuaman fortress, Kenko, Puca Pucara, and Tambomachay. (B)
DAY 3 Full-Day Excursion to the Sacred Valley of the Inca
Breakfast. Excursion to The Sacred Valley of the Inca. The first stop, Pisac, is famous for its Sunday Mass and daily outdoor market. The excursion is best when taken on Tuesday, Thursday or Sunday, when the market is expanded and attracts traders from surrounding communities.
The Sunday mass is held very early in the morning in the native language, Quechua, and is attended by the community elders from neighboring villages, wearing traditional dress. (Note: Special arrangements can be made in private service to witness this weekly religious event, as well as to hike to the impressive Inca ruins of Pisac, which towers above the village.)
After lunch, visit the Inca Citadel at Ollantaytambo, a sprawling complex of ruins characterized by fine masonry, terraces, canals, fortress walls, and the Temple of the Sun. (B/L)
DAY 4 Full-day Excursion to Machu Picchu
PeruRail Expedition Train Breakfast at the hotel, then pickup and transfer to the train station in Ollantaytambo to board the Expedition Train. Experience this mysterious ruins, with its ingeniously engineered underground water canalization and its sacred citadel of temples, mausoleums, squares and royal houses.
Widely believed to have been built in the mid-15th century by Inca Pachacutec, Machu Picchu was the secret city of the Inca, never discovered by the Spanish. Its rediscovery for the world was made in 1911 by American explorer Hiram Bingham, and it remains South America´s most spectacular archaeological site. Buffet lunch at Machu Picchu Sanctuary Lodge. Return by rail and overland to Cusco via Ollantaytambo. (B/L)
DAY 5 Farewell
Breakfast. Transfer from the hotel to the airport. (B)
(B) Breakfast, (L) Lunch, (D) Dinner
Terms & Conditions
Prices per person based on double room occupancy and group excursions and tours.
Prices subject to IGV tax for Peruvian citizens and legal foreign residents of Peru.
Prices and availability subject to change until booking is completed and paid.
Rate does not include domestic or international airfares.
Some date restrictions may apply
---
Contact Us: Get a quote for Ancient Inca Astronomy Tour
To book your Cusco vacation now or consult with us, fill out the "Contact Us" form to the right and a Fertur Peru Travel coordinator will contact you within one working day with detailed information about your fully customizable trip. Fertur's pledge is to offer you top-quality, individualized attention that starts with the planning of your trip and continues through your journey to guarantee a great vacation.