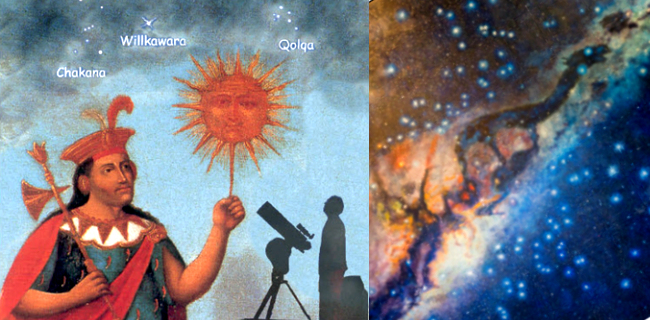 Experience Amazing Inca Astronomy: Planetarium Cusco
Whether you're coming to hike the Inca Trail or plan to take the more leisurely train to Machu Picchu, your experience will be greatly enriched if you understand the world view of the empire that built the great stone citadel.
That's why Fertur Peru Travel wants to introduce you to a family in Cusco that has visitors peering up nightly to the heavens to understand the ancient Andean cosmos: the vision of the Inca.
If you're interested in astronomy and the power of ancient myth, or simply want to learn about the constellations of the Southern Hemisphere, then we have a 5-day Cusco vacation for you. Click HERE!
Listen to the story of one Cusco family's mission to reveal the Inca Cosmo-vision to the world
Sign up for the Celestial Inca Astronomy Tour. Price available upon request.
Planetarium Cusco Podcast Transcript:
Each evening, just before sundown in Peru's Southern Andes, a small group of visitors arrive at the Planetarium Cusco. If that name conjures images of a modern, giant-domed building, you might be surprised.
This is a cabin on a cleared corner of a private forest reserve, inside a protected archaeological park.
Nearby are the monumental stone ruins of Sacsayhuaman, just a few minutes' drive from the Inca capital city of Cusco. The visitors are greeted by the planetarium's director, Professor Erwin Salazar.
For 30 years he has studied the night sky of the Southern Hemisphere.
And since 2007, he says, the Planetarium Cusco has fulfilled an important cultural and scientific mission.
Erwin Salazar: "The principle objective of this planetarium is to show the world the astronomy of the Incas; to take advantage of the fact that here, we not only demonstrate constellations and star clusters — just like every other planetarium — besides that we have the plus of actually star gazing directly with telescopes."
As the night air gets chilly, piping hot coca leaf tea is prepared, and warm blankets are handed out. It's in this cozy setting that the guests are introduced, many for the first time, to the southern night sky.
Handling a powerful telescope, Professor Erwin's enthusiasm for the stars and planets is contagious.
The Planetarium Cusco was conceived soon after Professor Erwin's nephew Roberto, a talented musician, got married to an equally talented young poet, Ana María Milla.
Ana María's father, Carlos, describes what happened this way:
Carlos Milla: "I would say that stars aligned."
Carlos is a local hotel owner and an icon of Cusco's tourism sector.
He says that in 2005, after a family party, he and Professor Erwin sat down with the newlyweds and began brain storming about possible business ventures.
Carlos says the conversation rekindled a personal dream of his that had been dormant for 25 years.
"The very first time that I attended a planetarium was in Lucerne in Switzerland and that was in 1980, and I was really, really, really amazed. And I said, 'One day I will have that.'"
But there was a hitch. Where would they build their planetarium?
Salazar: "Originally, the planetarium was going to be something different, something very modern and built farther up from this location. But because construction was prohibited by Cusco's National Institute of Culture, we settled on the abandoned home of a humble pottery maker. And that is why we ended up with a planetarium hidden inside a mountain cabin. And it turned out to be an idea more original than we could have conceived of. The success of this planetarium is precisely because it's different than any other."
The planetarium consists of two cultural interpretation rooms with photos, panels and 3D graphics. In its center is an 18-foot diameter dome with seating for 25 to 30 people.
It is here that Ana María uses a custom-made virtual star projector to demonstrate the constellations.
Ana María Milla: "Now, the highlights about the Incan astronomy and some interesting story telling…"
Emphasizing the Southern sky, she points out an ancient celestial menagerie of powerful Inca deities.
Ana María Milla: "The main one is around here, and actually has a bright eye, the star ALFA CENTAURO, a mouth, a couple of ears, long neck, body and legs… And here we have the big black llama. Do you see it?"
The Planetarium Cusco is gaining in popularity, mostly by word of mouth. It is a top-rated attraction on TripAdviser.
But Carlos says he hopes the lessons of the Inca — an Empire whose world-view was prefaced on living in balance with nature — makes this planetarium more than a mere tourist attraction.
Carlos Milla: "The world is getting smaller. The world is global, and unfortunately globalization is going one way, north to south. However, we find that the south has something to say. The ancient wisdom is something to be shared with the planet, and we believe that tourism is a great tool to open their minds to the holiness of nature."
It's an unseasonably overcast night, but as tonight's visitors gather around Professor Erwin's telescopes, the clouds disperse.