Hotel Libertador Arequipa: Quote Now And We'll Call You!
---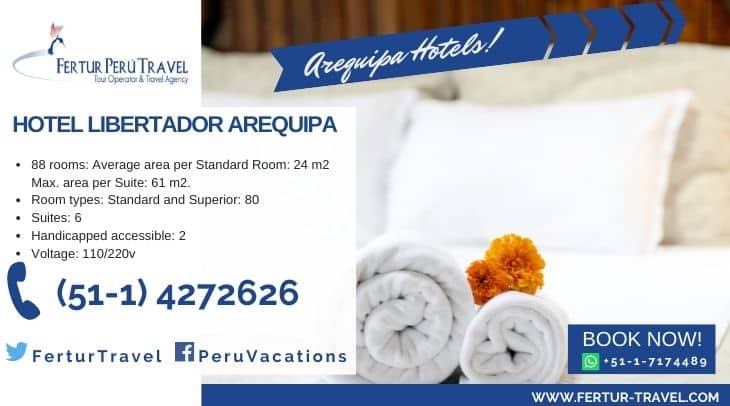 ---
The Hotel Libertador Arequipa lies in the heart of Arequipa with 88 guest rooms with 6 suites resting on expansive grounds covering 26,000 square meters. The entire building is encircled by gardens and gives spectacular views of the three volcanoes that ring Arequipa, creating a perfect environment for a romantic getaway or as a base for travelers doing the Arequipa-Cuzco circuit. The salons and gardens can be specially decorated and equipped to host conferences of up 1,000 business people visiting the White City. Its facilities and location also make for an ideal starting point to explore the Colca Canyon, one of the deepest canyons in the world.
⭐⭐⭐⭐⭐
Prices available upon request
Get to know the Hotel Libertador Arequipa
Ringed by lush gardens, the Hotel Libertador Arequipa, is an oasis of luxury located in the historical center of Arequipa. Offering spectacular views of the city's three volcanoes, this five-star hotel is perfectly situated for an exotic & romantic Arequipa vacation.
Hotel Features
88 rooms: Average area per Standard Room: 24 m2 Max. area per Suite: 61 m2
Room types: Standard and Superior: 80
Suites: 6
Handicapped accessible: 2
Voltage: 110/220v
Wireless Internet
Heating and air conditioning
24 hour room service
Cable TV
Safe deposit box
View the photo gallery for the Hotel Libertador Arequipa
Facilities
Restaurant
Bar
4 conference rooms (capacity for 250 persons)
Gym and sauna
Swimming pool and jacuzzi
Business center
Private gardens
---
Contact Us: Book Early and Save on our Best Hotel Rates!
To book your vacation now or consult with us, fill out the "Contact Us" form to the right and a Fertur Peru Travel coordinator will contact you within one working day with detailed information about your fully customizable trip. Fertur Peru Travel's pledge is to offer you top-quality, individualized attention that starts with the planning of your trip and continues through your journey to guarantee a great vacation.
Go Back to Arequipa Hotels