Casa Andina Private Collection Arequipa. Book Now!
---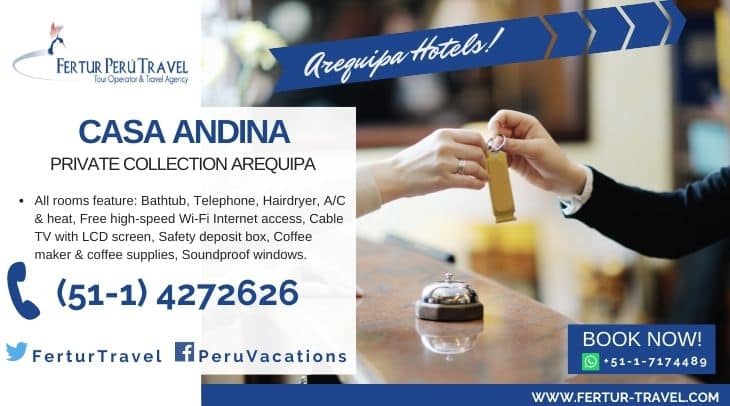 ---
The former Mint House, one of the most beautiful traditional mansions in Arequipa, has been transformed into the Casa Andina Private Collection, with 41 guest rooms including 11 suites. Just three blocks from the central square and behind the Santa Catalina Convent, this luxury hotel boasts all modern amenities, but retains the colonial touches the "white city" of Arequipa is famous for, with its own private chapel, two courtyards ringed by stone columns, a gourmet restaurant and business center.
⭐⭐⭐⭐⭐
Prices available upon request
Casa Andina Private Collection luxury hotel
Built in 1794, the former Casa de la Moneda (or Mint House) was renovated in 2008, transforming this National Historic Monument into a sumptuous .
Hotel Features:
41 Rooms: 28 Superior Rooms, 10 Suites, 2 Senior Suites, 1 Imperial Suite, 4 smoking rooms.
Superior Rooms: Ample (25 m2/ 269 sq. ft), featuring full-size or King beds and a stylishly refined & modern aesthetic, dominated by pristine white and Andean red accents.
Suites: Very spacious (40 m2/ 427 sq. ft), with King beds, separate sitting areas and full walk-in closets, as well as spacious bathrooms, including bathtubs.
Senior Suites: Extraordinarily large (66 m2/ 707 sq. ft), full of colonial flavor and sumptuously decorated, with Super King beds, separate living rooms, valuable original colonial paintings, and period antiques. Feature traditional high vaulted ceilings, sillar (white volcanic stone) walls, large bathrooms, and antique armoires.
Imperial Suite: Featuring astonishing Arequipa views, (54 m2/ 578 sq. ft), located on the 2nd floor with its own grand private entrance, a sillar staircase leading from interior patio. Features a Super King bed, large independent living room, long original colonial wooden balcony, as well as bronze chandelier, splendid 19th-century armoire, double-paned windows, and a round Jacuzzi tub with views overlooking the principal interior patio.
All rooms feature: Bathtub, Telephone, Hairdryer, A/C & heat, Free high-speed Wi-Fi Internet access, Cable TV with LCD screen, Safety deposit box, Coffee maker & coffee supplies, Soundproof windows
Facilities:
Cara y Cruz gourmet restaurant, occupying two rooms in the original manor house, opening onto the central patio.
Colonial-style bar opening onto the main courtyard.
Free high-speed Wi-Fi Internet access throughout hotel.
Business center with free high-speed Internet access & corporate meeting/conference room.
Room service (6am-11pm).
Sunny 4th-floor terrace deck with views of the Cathedral and El Misti volcano.
Uzanzas handicrafts & gift shop.
Laundry service.
Medical assistance.
Globalnet ATM machine.
Rooms for disabled and smoking guests.
---
Contact us: Reserve your preferred room at Casa Andina Private Collection
To book your vacation now or consult with us, fill out the "Contact Us" form to the right and a Fertur Peru Travel coordinator will contact you within one working day with detailed information about your fully customizable trip. Fertur Peru Travel's pledge is to offer you top-quality, individualized attention that starts with the planning of your trip and continues through your journey to guarantee a great vacation.
Go Back to Arequipa Hotels