El Cabildo Hotel Arequipa: Your Room with us now!
---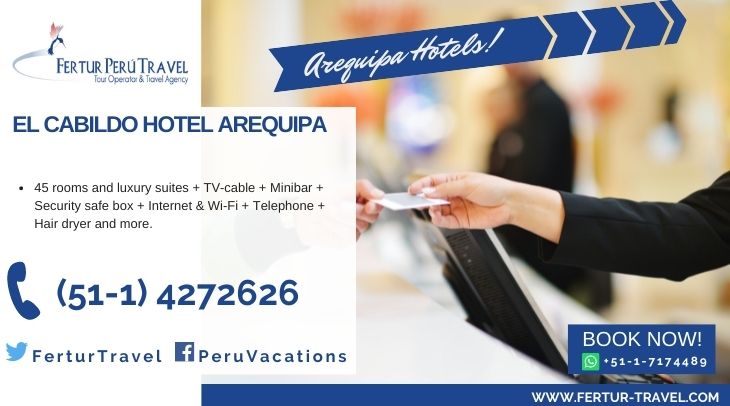 ---
Close to the center of the city, El Cabildo Hotel stands in a quiet residential part of Arequipa, surrounded by parkland, with excellent views and traditional cuisine on offer from the "Si Quedaos" restaurant in its rooftop garden. Each of the 45 air-conditioned guest rooms is designed to help travelers unwind after a day spent exploring the main plaza, cathedrals, traditional mansions and the Santa Catalina monastery. After dinner guests can share stories, drinks and music at the Don Julio piano bar.
⭐⭐⭐⭐
The Cabildo Hotel, located in a peaceful, tree-lined residential neighborhood of Arequipa and surrounded by beautiful green parks, has 45 rooms and luxury suites, each offering Cable TV, Internet, heat control and in-room safe.
El Cabildo hotel features
45 rooms and luxury suites
TV-cable
Minibar
Security safe box
Telephone
Hair dryer
Facilities
Restaurant Los Candiles specializing in traditional Peruvian and Arequipeño cuisine and international dishes.
"Don Julio" Piano Bar.
"Si Quedaos" Roof Garden.
Private Parking.
Handicap services.
---
Contact Us: Need help with a booking?
To book your vacation now or consult with us, fill out the "Contact Us" form to the right and a Fertur Peru Travel coordinator will contact you within one working day with detailed information about your fully customizable trip. Fertur Peru Travel's pledge is to offer you top-quality, individualized attention that starts with the planning of your trip and continues through your journey to guarantee a great vacation.
Go Back to Arequipa Hotels