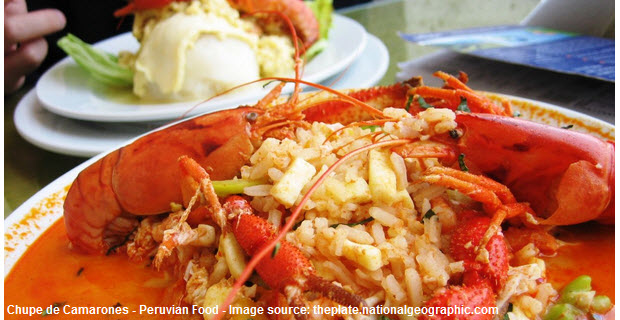 Chupe de Camarones – Peruvian Food
The Moche people of Northern Peru held freshwater crayfish or camarones to be sacred, and they appear in artwork found in Sipan and at sites around Trujillo. Seafood soups featuring camarones are popular throughout coastal Peru, with the picanterias of Arequipa specializing in mountainous collections of the crayfish in this opaque, spicy broth.
It May Interest You: How to Spend 2 Days in Arequipa
1 kg of camarones (river crayfish)
½ kg peeled yellow potatoes
1 cup of peas 1 choclo (corn) cut into rounds
¼ cup of rice
1 can of evaporated milk
1 onion chopped
1 tablespoon of powdered chili (aji panca)
1 teaspoon of powdered garlic
2 tablespoons of olive oil
2 beaten eggs (or 1 raw egg per serving bowl)
100 gms fresh cheese
Salt, pepper and oregano to taste
Clean the crayfish and keep the coral (the yellow matter behind the brain) aside for use in the soup. Fry the rest of the crayfish in a large pot with the onion, garlic, chili salt and pepper. Once they are done, set them aside. Collect the corals and dissolve in a small amount of water, then strain. Add two liters of water. When it starts to boil, add the corn, peas and rice.
You Might Also Like: Colca Canyon Tour 4 Days 3 Nights: Book now online today!
When the vegetables are half done, add the potatoes and when they are half done, add the crayfish for the last time. Add the fresh cheese and two beaten eggs, and the oregano. Or drop a raw egg into each serving bowl, it will cook in the hot soup. At the last minute add milk and serve. Serves six.