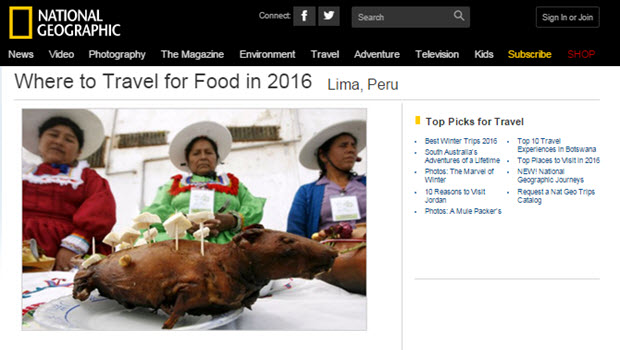 Lima Makes National Geographic Top 10 Food Destination For 2016
Peru's capital Lima was distinguished as the only city in Latin America to make it as one of the Top Ten gastronomic destinations to visit this year, according to National Geographic's "Where to Travel for Food in 2016."
"Many travelers are visiting the Peruvian capital right now simply to eat," the National Geographic Web site stated.
The recommendation noted that three Lima restaurants were included last year in the World's 50 Best Restaurants, and lauded the "inventive, chef-driven restaurants" who "often do playful takes on Peru's many distinct culinary traditions."
Other cities included in National Geographic's list were Ho Chi Minh City,Vietnam; Belfast, Ireland; Antalya, Turkey; Sicily, Italy? Richmond, Virginia, USA; Marrakech, Morocco; Sydney, Australia; New Orleans, Louisiana, USA; and Tokyo, Japan.
In related culinary news, Peru's Minister of Foreign Trade and Tourism, Magali Silva, on Wednesday announced from the International Tourism Fair (FITUR) in Madrid that Peru had signed with the World Tourism Organization (WTO) and the prestigious Basque Culinary Center of Spain an agreement for Lima to host the Second Global Forum on Gastronomic Tourism.