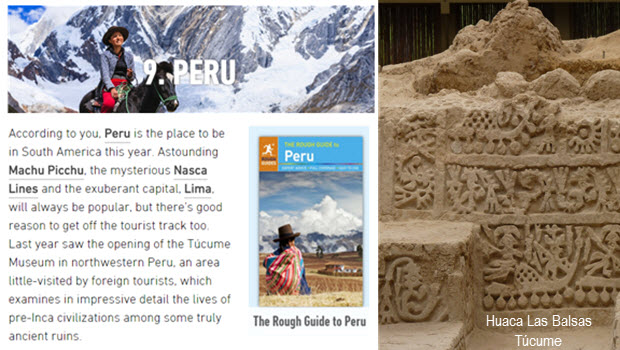 Rough Guides readers list Peru as Top 10 Destination
Peru made it into the Top 10 destinations for 2016 of the "People's Choice" list published yesterday by the British travel book publisher Rough Guides.
The designation, voted on by Rough Guide readers, described Peru as "the place to be in South America this year," extolling Machu Picchu, the Nazca Lines and Lima, and urging travelers to get off the beaten tourist track:
"Last year saw the opening of the Túcume Museum in northwestern Peru, an area little-visited by foreign tourists, which examines in impressive detail the lives of pre-Inca civilizations among some truly ancient ruins."
The site museum, constructed with a $3.2 million investment, is located in the heart of the pyramids of Túcume archaeological complex, which sprawls over 220 hectares in the Lambayeque region. There are 26 pyramids of different sizes, all built around an imposing central mountain — one of the largest pyramid cities ever built.
It is one of the main destinations on the Northern Peru archaeology tour, also known as the Moche Circuit.
Peru was listed ninth in the Rough Guides 2016 reader's classification. Also listed were Nepal, the Philippines, Myanmar, India, Iceland, Greece, Vietnam, the United States and Thailand.