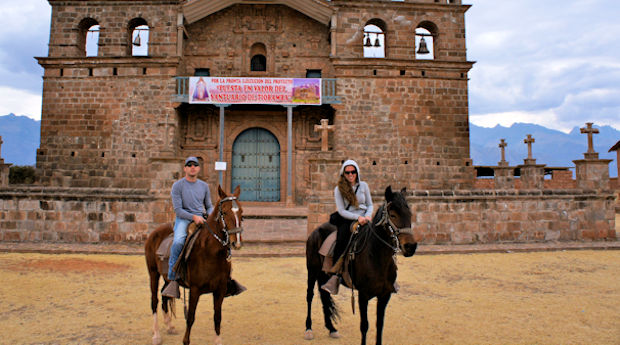 Cusco horseback riding tour in the Sacred Valley of the Inca
A wonderful alternative tour to consider during your Cusco holiday — whether for a romantic anniversary, a honeymoon or a full family vacation — is a full-day tour of the Sacred Valley on horseback.
The Best Horseback Riding in Cusco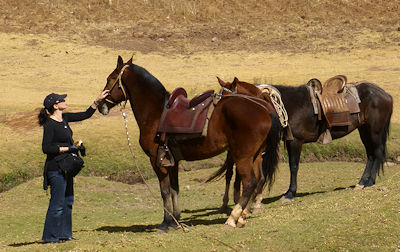 The equestrian adventure takes you through Andean villages and majestic landscapes crowned by ice peaked mountains.
Your equestrian guide will introduce you to back trails and Quechua villages off the beaten tourist path.
The Andean countryside offers an idyllic setting for a delicious, homemade picnic lunch.
The horseback tour culminates at the plateau overlooking the Muyus of Moray, three immense, and one smaller, set of perfect concentric circles monumentally carved more than 500 years ago into the terrain by the Inca.
While the horses rest, you'll be taken to explore the ancient Salterns of Maras — a patchwork of some 3,000 "salt pans" — where the local inhabitants have been harvesting salt since before the advent of the Inca Empire.
The tour is ideal for riders of all levels, beginner to advanced. Your comfort and safety are top priorities. The paso horses are healthy, impeccably groomed and well-shod, and very well trained.
Over and over, our clients rave about this excursion as a highlight off their Peru vacation, right up there with Machu Picchu.
It is a great option for families with young children. If you want to give your little ones an experience that no theme park can ever hold a candle to, this is it.
---
✔ Click Here to read a detailed description for this Cusco Horseback Riding Tour in the Sacred Valley of the Inca.
---