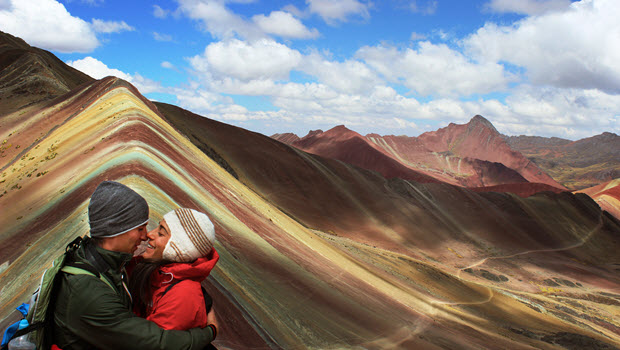 Prepare for some high altitude to feast your eyes on Rainbow Mountain
You'll want to be fully acclimatized when you behold the kaleidoscope of multicolored hills known as "Rainbow Mountain."
When you look out over those vivid stripes formed by trace minerals of iron oxide red, bright yellow iron sulphide and varying shades of chlorite green, you'll be doing so at an altitude of more than 17,000 feet above sea level, or about 5,200 meters. So take easy for a few days beforehand at lower elevation in Cusco or the Sacred Valley.
Also known as Cerro Colorado, K'ayrawire Wininkunka, Seven-Color Mountain or, most popularly, Vinicunca, this remote mountain range is best hiked during the dry-season months of April through September.
Located about 11 kilometers, or 7 miles, Southwest from the ice-peaks of Ausangate, Vinicunca is now part of a popular multi-day mountain adventure trek, that we offer.
It can also be done as a full-day tour. Starting before dawn, it's a six-hour journey to reach the wind-swept summit from Cusco — a three-hour drive to the Ccayahuire Valley and to the trail head near the town of Chillca, and then a three-hour trek to Rainbow Mountain.
Take it slow. Horse support is highly recommended. And be prepared for chilly conditions and very high winds.
But that view will make it all worth the effort.