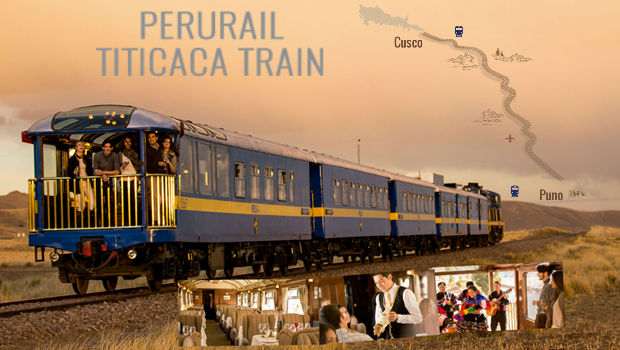 Book the PeruRail Luxury Titicaca Train between Cusco and Puno
On May 31, PeruRail will inaugurate its full-day luxury "Titicaca Train" service between Puno and Cusco.
The 10½-hour journey is non-stop for up to 132 passengers, aboard beautifully appointed wood-paneled wagons, including four dining cars and an open-air observatory car with a full bar to take in the amazing scenery in style.
The service includes a gourmet lunch prepared with exquisite Andean ingredients and live entertainment.
 

Itinerary PeruRail Titicaca Train

 

Day

Route

 Departure 

Arrival

  Monday

   Puno – Cusco

    7:30

   17:50

  Tuesday

   No Service

   —

   —

  Wednesday

   Cusco – Puno

   7:10

  17:29

  Thursday

   Puno Cusco

   7:30

  17:50

  Friday

   Cusco – Puno

   7:50

  18:08

  Saturday

   Puno – Cusco

   7:30

  17:50

  Sunday

  Cusco – Puno

   7:50

  18:08