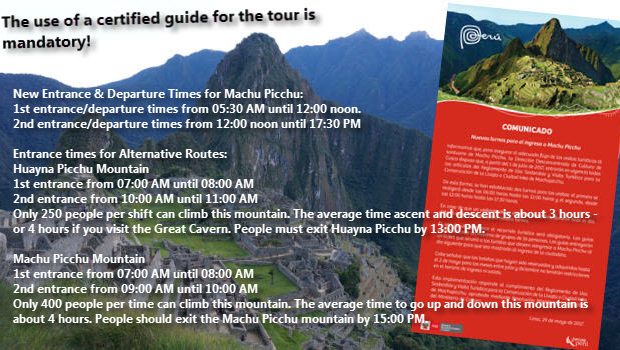 New Machu Picchu Entrance Times and Mandatory Guides as of July, Oh My!
Yes, it's now official. There will be two entry shifts for Machu Picchu, and the use of a certified guide to tour the citadel will be mandatory as of July 1, 2017.
What does this mean for you?
Well, according to the new regulations, guides can lead a maximum of 16 people. If you wish to explore on your own, PromPeru says in a communique that you can buy a second entry ticket for the following shift, either later in the afternoon or the next day. Your guide will be able to provide a stub to show at the entrance that will serve tourists who wish to re-enter Machu Picchu unaccompanied.
Another option to consider is the Short Inca Trail, a less arduous one-day hike to Machu Picchu than the Classic 4-day Inca Trail trek. It requires no camping or hauling of backpacks, and allows you to tour a half dozen major Inca ruins, including Runkuracay, Sayacmarca, Phuyupatamarca and Wiñayhuayna. You will also get to visit Machu Picchu twice, once with your guide, entering at Inti Punku Sun Gate at the end of the hike, and again the next day.
An important note: the new restrictions on check-in and check-out times will not apply to those who purchased their tickets prior to May 2 to visit Machu Picchu between July and December.
"Most tourists have made those arrangements long in advance, but for those who have not, there are official guides available (for hire) at the entrance," said Dr. Elías Carreño Peralta, the Ministry of Culture's official in charge of implementing the 2015-2019 Machu Picchu Master Plan.
Currently, the official guides at Machu Picchu's entrance charge approximately a hundred soles for up to four visitors, or approximately 25 soles, or just under $8, each.
New Entrance & Departure Times for Machu Picchu:
1st entrance/departure times from 05:30 AM until 12:00 noon.
2nd entrance/departure times from 12:00 noon until 5:30 PM
○ The new daily visitor limit will be 5,940 people, spread out between the two shifts (55% percent in the morning and 45% during the afternoon), and over three principle routes through the ancient ruins.
Entrance times for Alternative Machu Picchu Routes:
Huayna Picchu
1st entrance from 07:00 AM until 08:00 AM
2nd entrance from 10:00 AM until 11:00 AMOnly 250 people per shift can climb Huayna Picchu. The average time ascent and descent is about 3 hours, or 4 hours if you visit the Great Cavern. Visitors must exit Huayna Picchu by 1:00 PM, or by 11:30 AM if you visit the Great Cavern.
Machu Picchu Mountain
1st entrance from 07:00 AM until 08:00 AM
2nd entrance from 09:00 AM until 10:00 AMOnly 400 people per shift can climb Machu Picchu Mountain. The average time up and down is about 4 hours. Visitors must exit Machu Picchu Mountain by 3:00 PM.
(Don't let anyone tell you it's a much easier trek than Wayna Picchu… It's not!)
Intipunku (Sun Gate)
This route allow visitors to hike the Inca Trail from the Citadel of Machu Picchu up to the Sun Gate. This trek takes about one hour, round trip.
Inca Bridge
This option is voluntary and allows visitors to trek the Inca Trail from the upper platforms of Machu Picchu's "Agricultural Sector" located northwest of the Guard House to the Inca Bridge. The journey takes about one hour, round trip.
For more background on these and other upcoming changes at Machu Picchu, check out these news stories:
Machu Picchu Extreme Makeover Plans Explained
'Lost City' no more, Machu Picchu feels the strain of booming tourism